Monster Truck Madness – See ya at BIGFOOT 4×4 Open House this weekend!
Hey everyone and Happy Thursday!
This weekend is BIGFOOT 4×4 Open House, in Pacific, MO!
With full scale car crushes, monster truck rides, r/c monster truck racing, and various show trucks on display, it's a blast for all ages! The event goes from 10am – 3pm, and is completely free to attend.
Legendary monster truck driver Jim Kramer will be taking his last ride over a set of cars in the event's headlining attraction, which should take place sometime in the 2pm hour. I'm going to write more about Jim next week, but suffice it to say I'm extremely happy that I'll be in attendance to watch one of my personal heroes send it for the last time.
There will be several BIGFOOT car crushes taking place throughout the day though, not just Jim's! Usually one takes place in the mid morning and the other in the later afternoon.
One of the annual highlights is the old school monster truck car crushing, and several leaf-spring trucks will be in attendance. It's freakin' sweet watching the old iron tackle the cars.
Oh yes, there will be r/c monster truck racing. I'll be helping to put on the event with Trigger King R/C. Here's an info graphic for the event. Note that due to how crowded it gets (and this year due to Jim Kramer's farewell performance it's expected to draw a MASSIVE crowd) you must get there early with your r/c stuff if you want to drop it off, otherwise you'll be lugging it potentially far from a parking area.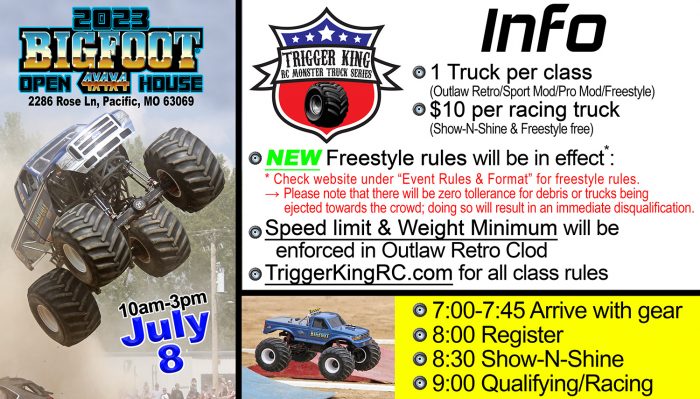 We will be running 3 different classes- Outlaw Retro Clod Buster, Sport Modified, and Pro Modified. Click here for a full list of rules. Drivers will participate in qualifying where they will run each of the two competition lanes followed by a full elimination bracket.
The day always moves fast, as we will be done by the time Open House ends. We stop for all the full scale action, so don't worry about missing any of that!
If you do come out, please say hi to me behind the computer near the r/c track as I'll be there most of the day!
Please note that Open House is a rain or shine event. In the event of rain r/c's may or may not run inside the shop- it's kind of a play it by ear thing. Hopefully we get good weather for it though!
For up to date info on BIGFOOT 4×4 Open House, the BIGFOOT 4×4 team's Facebook page is the best place to check out.
Hope to see you there!