Monster Truck Madness – Tamiya Super Clod Buster Black Edition Impressions
How is it that I've been writing for Big Squid for about 7 years now and not done any kind of review/impressions/discussion of a box stock Tamiya Clod Buster? Well friends, after building and bashing my new Tamiya Super Clod Buster Black Edition, that egregious oversight ends today. Here's a mini-review-
The Build 
To complete the Super Clod Buster, you will need a servo and radio gear. I went with a Spektrum 2 channel RX and a Hitec 645MG. The kit doesn't come with bearings, so I opted to install a set of Fast Eddy Sealed Bearings, which they make for the Clod. Here's a tip- if you build a Clod ALWAYS spring for the bearings. You don't want bushings in your gear cases, trust me.
As for the actual build, it's a Tamiya which is to say nothing builds easier. Great instructions, organized parts bags and a lot of fun. Every hobbyist should build a Clod kit at least once!
I didn't install the shock bump stops. I don't advise this if you intend to use the stock steering for very long, but I wanted the extra travel.
The ESC is rated for 2S power and that's what I used. No issues there. DO NOT run 3S though, as it won't last long if you do.
Here's a timelapse of the build, which I leisurely completed over several days knocking out a bit at a time.
The Good
I mean, it's a Clod- it's a ton of old school goodness. If you enjoy the golden years of full size monster trucking, you will absolutely love bombing around on this bouncy beast. It handles and reacts to obstacles very much like a gigantic piece of late 80's American iron.
On 2S power I find it plenty peppy with a good amount of torque. I think it's the perfect speed for the era it's trying to capture. I'm sure some may want more power, but that's what a mod Clod is for! The 27t motor speed is fine for this hard bodied old skooler.
The price is right as you can get this kit for under $300 shipped. I think that's an awesome deal, especially given that it includes a decent ESC to handle the twin motors.
If you build this truck to box art specs, no paint is needed! The body comes flat black.
I think this is the best looking Clod kit that Tamiya has offered since the original Chevy licensed release back in the late 80's. The black and red go great together, with the chrome decals and body parts setting it off. The wheels look freakin' awesome as they are a smoked chrome finish. I plan to modify this truck into a Retro racer, and I'm keeping those beautiful wheels.
The Bad
I really only have one real complaint with the Clod, albeit it's a big one- the stock steering setup is antiquated and very bad. The servo sits in the middle of the chassis tub and connects to assemblies on the front and rear via long rods. This creates multiples issues. One is that turning all 4 of these big tires at once is a lot of work for a single servo. The second is that this setup, with it's various flimsy rods, creates a ton of slop. It's a recipe for a very ill-handling vehicle.
The Clod is still fun with the stock setup for light duty bashing and bombing around, but just know you will have a lot of goofiness in the 4 wheel steer, especially with the rear wanting to do more turning than the front thanks to the physics of the moving vehicle.
Luckily, the aftermarket has many solutions for this via axle mounted servo plates and linkages, but still, it would be nice if Tamiya would fix this and come up with a better factory option.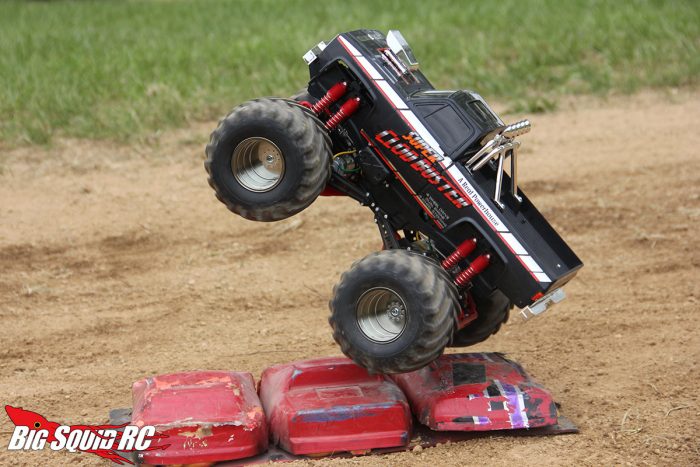 Broken Parts
The first rollover on cement after completing the beautiful body made me die a little inside. The good thing is that black body hides scratches well!
I bent up the factory steering links thanks to removing the bump stops in the shocks. It causes them to bang into the chassis under compression, but given that I plan on throwing the stock steering links into the sun as soon as possible, this wasn't really an issue for me. Still, if you intend to run factory steering DO NOT remove the shock bump stops.
Outside of that, a stock Clod is pretty tough. Bare in mind that the top speed is quite low though!
Final Thoughts
Hey, I love the Clod. It's my favorite r/c vehicle of all time. I've built a bunch of them and will probably build more. If you already have an opinion of the platform, the Black Edition won't change your mind, though. For better or worse, it's the same old Clod you either love, hate or are indifferent to.
I wish Tamiya would update a few things with the kit, mainly the steering, but you are getting a lot of truck here for the money.
The true beauty of the Clod? What's in the box is just the start of an adventure. Over the next month or two I will be detailing how to take this box stock rig and turn it into a Retro Monster Truck Racer!
A new chassis, new body, new steering system, new tires- it's gonna be fun. Until then, keep it on all 4's!