Monster Truck Madness – The Boss Lives!
The BigSquidRC Boss is alive!
At the end of 2018 I posted that I was preparing to build a monster truck with Axial guts on the new ACRC Havoc chassis. Well, I'm happy to share today that not only is the truck finished, but it's seen competition!
Here's a rundown on what I used.
– ACRC Havoc Chassis w/ Sway Bar Kit (combination of Axial and Dubro Rod Ends)
– Hot Racing Steel Transmission
– Axial SMT10 AR60 axles
– MIP Driveshafts
– SSD Aluminum Steering Knuckles and C-Hubs
– Axial SMT10 Shocks w/ 30 wt oil
– Hitec HS-7954SH Steering Servo /w Castle Creations BEC
– Stock Axial SMT10 Trailing Arms and Steering Links
– Graupner Genius 120R ESC w/ 6.5t motor
– Team Associated Battery Cups
– Spektrum SR301 RX
– JConcepts Tribute wheels with 23mm offset adapter
– JConcepts Mock Bead Lock Rings (white)
– JConcepts JCT Tires in Gold (Hard) Compound
– JConcepts 2005 Ford F-250 Body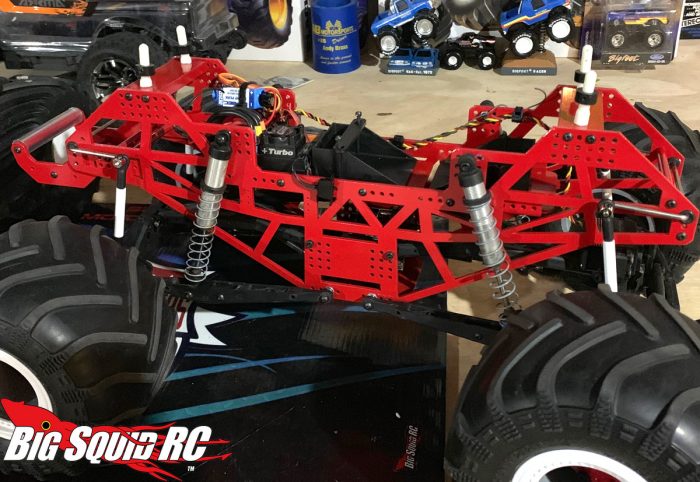 A couple notes on the build.
I am using the stock Axial trailing arms and steering linkage because I actually like how they have a bit of give in them to save other parts. Once a link gets bendy, I just put a new one on (thanks to purchasing 4 SMT10s, I have a lot of spare stock links!). This has gotten me through a year and a half of full event days with nary a broken part to be found, and that includes freestyling as well as racing. I'm OK with sacrificing a little bit of rigidity for hassle-free event days.
For gearing I'm using the steel 56t spur that the HR unit includes, as well as a 12t pinion. This is geared fairly low, but I find that since the 6.5 motor is ridiculously fast, this helps for controllable launches.
For the winter we race on concrete, so I was able to play with shock configurations in my basement before heading to the track. That's the beauty of a chassis with a ton of shock mounting options. You can tweak til your heart's content!
The JConcepts JCT tires in gold compound are the absolute hotness for concrete racing. The flat tread pattern (which replicates a full size third generation BKT Monster Jam tire) allows for maximum surface contact, and the compound grips the smooth cement hard.
I'm happy to say that thanks to a friend giving me a good baseline setup (Jeremy and Taurus!) and with some practice in my basement, the Boss was a force on the track immediately. I wound up winning some rounds, which always feels good but even more so when it's the first time a new build sees competition.
I'll need some more time with it, but I'm really impressed with the Havoc chassis so far. The truck handles very similar to an Axial SMT10, but but feels just a bit weightier in the air and a bit heftier in the corners. I'm diggin' it!
Once we hit outdoor (dirt) season in April, I have some changes planned for it. I'll report back then. Thanks for reading!