Monster Truck Madness – The Spectrum
Hey folks, welcome to a special edition of the weekly MTM! April 2nd is Autism Awareness day, and in celebration of that I'm wanting to give some extra visibility to a special build from friend Outlaws of Motorsports RC (his Instagram handle is @outlawsofmotorsportsrc). His truck, named "The Spectrum", has a great story behind it. And with that, I'll let him take it away in this special guest blog!
Outlaws of Motorsports is a promoting company that produces all forms of motorsports shows across Canada including Monster Truck events.  We started the scale RC Monsters thing on Instagram in May of 2020 during the pandemic as the full size shows had stopped happening.
When trying to come up with a theme and name for one of our trucks, I decided to take inspiration from my youngest son who loved to come and watch us drive the monsters around the track.  In 2017 he was diagnosed with Autism so we decided to try and shed some light and spread awareness to the RC community by creating an Autism Awareness truck.  We contacted JB Scale Graphics to come up with a wrap that would be instantly recognizable, and enlisted the help of full size monster truck wrap designer Michael Arndt to assist with the look and they far exceeded our expectations.  It was hard deciding on an actual name for the scheme though. Then, one day I looked at my Spektrum remote and it hit me, "The Spectrum".
Individuals with ASD or Autism Spectrum Disorder are often said to be "on the spectrum", so it was a instant hit with everyone. We teased the release of the truck on our Instagram feed by showing random Autism facts while building up to a grand reveal with the help of my son and to this day that video is the one I'm most proud of.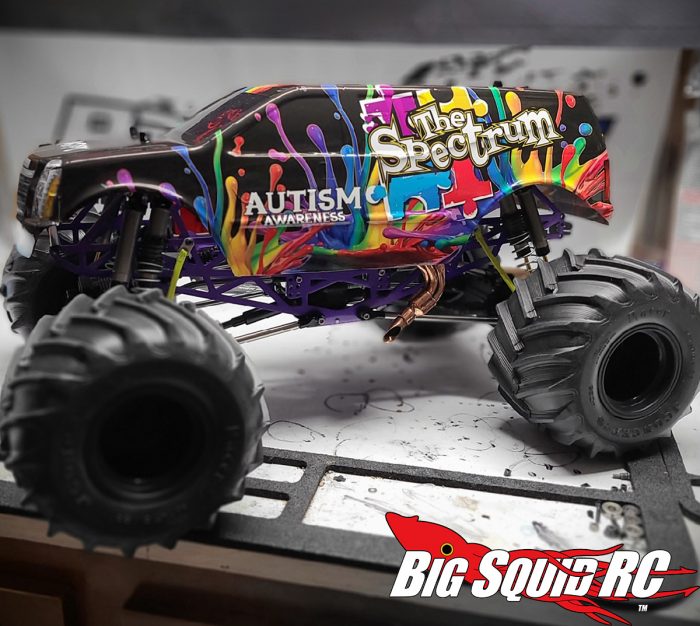 Feedback on the design was so positive that JB Scale Graphics still sells the wrap today along with the brand new version 2 that we just released this year. JB kindly donates all profits from the sale of The Spectrum wraps to a local autism charity that directly helps struggling families. We have seen many people purchase the wraps and make their own custom versions and it's great to see!
As for the actual truck, it was built on the SMT10 Raw Builder's Kit platform but quickly got put on a custom Blackmarket RC chassis with a Castle 3800kv brushless system. Along with the new wrap the V2 version has seen the chassis painted Plumb Crazy Purple, a new set of JConcept Firestorm Racer tires and a custom set of Copper Headers by Chris @Line_DriveRC.
World Autism Day is April 2nd.  ASD is a developmental disability referring to a broad range of conditions characterized by challenges with social skills, repetitive behaviors, speech and nonverbal communication. Because autism is a spectrum disorder, each person with autism has a distinct set of strengths and challenges. The ways in which people with autism learn, think and problem-solve can range from highly skilled to severely challenged. Some people with ASD may require significant support in their daily lives, while others may need less and live entirely independent. Currently, Autism effects 1 in 44 children in the US and is almost 5 times more prevalent in boys than girls.
Thanks for letting me share my story and this build!
You can follow Outlaws of Motorsports RC on Instagram @outlawsofmotorsportsrc