Monster Truck Madness – The Tiny Titan Shopping List
Howdy folks, and welcome to another MTM! I've been talking about building a 1/24 scale monster truck, and I'm happy to say all the parts have been ordered and everything is either in my hands OR on the way.
For those wondering what exactly is needed for a 1/24 mini monster truck, I'm going to give you the full build list that I'm rolling with. Big thanks to Michael MacKenzie (an experienced mini-monster trucker) for helping me put together what exactly is needed to finish one of these little guys.
You need to start out with the latest version of the Axial SCX24. The Jeep. It has the appropriate link size needed for the chassis I'm about to mention. You'll be pillaging the axles and transmission from it. You can also gank the electronics if you don't want to go brushless. However, I AM going brushless. I want a fast little monster. When the trucks are brushed they can't really jump. So keep that in mind when you are deciding.
You are going to need a chassis. I got on the list and ordered a Southwest Monster Shop Tiny Titan. It's machined carbon fiber and should be able to easily handle abuse. That's the chassis at the top of this page (photo is NOT my truck, that's from the SWMS website) and they can be found here (they are currently sold out, though).
So, with the Axial SCX24 and Tiny Titan forming the foundation for this little 1/24 terror, here's the rest of what is needed. I ordered these parts from various hobby shops online.
Southwest Monster Shop Tiny Titan Wheel Set (Wide)
AMT Ertl Monster Truck Tire Parts Pack
FURITEK LIZARD 20A/40A Brushed/Brushless Esc for AXIAL SCX24 with Bluetooth – #FUK-2022
Surpass Hobby 1220 45T 8300KV Brushless Motor – #SP-012200-01
EMAX ES08MAII 12g Analog Metal Gear Servo – #EMX-SV-0275
Hot Racing Axial SCX24 0.5M Spur Gear Conversion – #HRASXTF328M05
Hot Racing Axial SCX24 Aluminum Threaded Telescopic Shock – #HRASXTF485TR04
Samix SCX24 Aluminum Servo Mount (Black) (EcoPower/Emax) – #SAMSCX24-6068E-BK
OMG look at how tiny this little brushless motor is! It's BAY-BAY!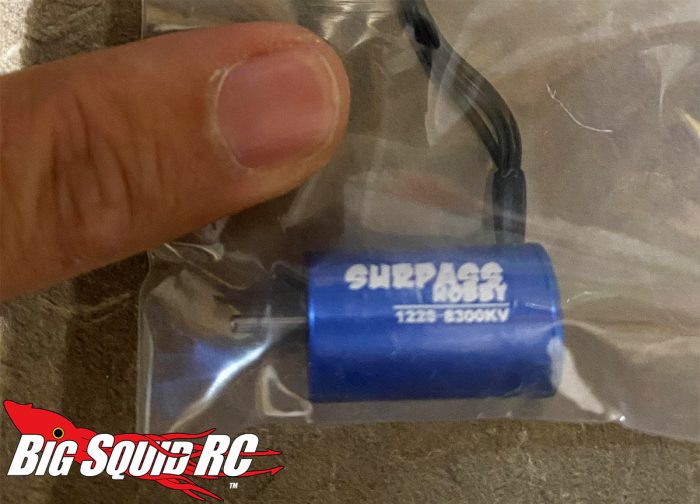 The one thing I don't have yet is the body. I'm still deciding what to do. I may use a lexan one…I may try and use an old BIGFOOT #10 AMT hard plastic model body. I'll figure that out after it's built.
I'm am pumped to start assembling this thing. As soon as it's done and I have some driving impressions, I'll be writing them here. I'll also shoot some videos of the truck in action. As the great Bart Scott once said, "CAN'T WAIT"!