Monster Truck Madness – Transmission Upgrade for an SMT10
Greetings monster truck nuts! I'd like to talk Axial SMT10 transmissions in a minute, but I'd like to touch on some sad news first.
A long-time member of the monster truck community passed away unexpectedly last week, BIGFOOT's Ron Bachmann. Ron, affectionately known as "Lurch" to many, was a legendary road-warrior and great man. If you've ever seen one of the Team BIGFOOT trucks in person over the last 30 some years, there is good chance that ol' Lurch was either driving or crewing at the event. He is going to be missed by many. Rest easy, big man.
Ok, so let's talk about more fun matters – transmissions.
The Axial SMT10 is a good truck that can be made great with a few mods, and one of the most important involves modifying the heart of the beast to be able to take more power. The stock plastic gears will not be long for this world if you slap on a set of racing tires and hot motor.
The beauty of the platform is that it uses the vaunted AX10 transmission which means there are a lot of options as far as the aftermarket goes. You can swap out the individual gears for upgraded steel, or just replace the entire unit all-together.
I have gone pretty much every route on the four SMT10's that I compete with, and I have a clear cut favorite solution- the Hot Racing Full Metal Locked Transmission.
Here's a link to it on Tower's site for simplicity, and I should note this is NOT a sponsored post. I seriously love this thing, and several of my racing buddies do as well.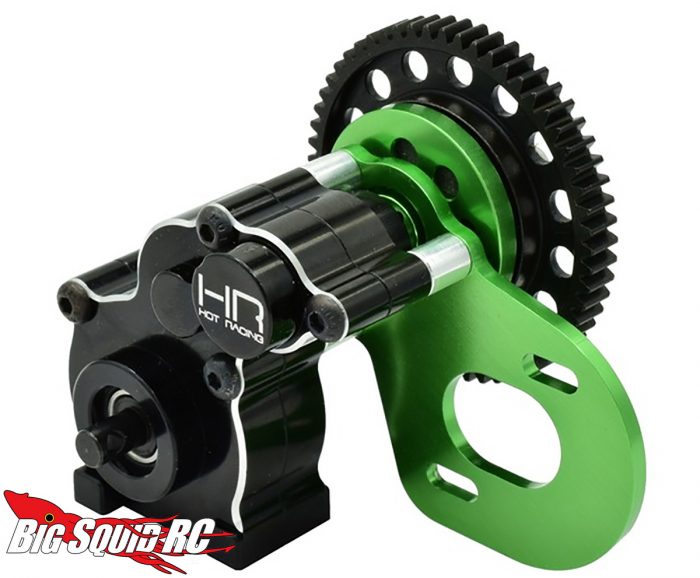 The Hot Racing Transmission features all steel gears with a one piece outdrive, and the case itself is machined billet aluminum. It not only works well but also looks trick. The steel spur is 57t / 32p. The best part is that everything comes completely assembled so it's totally bolt-on.
My lead truck, Nuclear Banana, has been using one of these trouble-free with a 6.5t motor for about 15 months now. (In fairness, I recently built a Vanquish unit that's worked great as well, but the total cost of that was more than the Hot Racing getup after buying all the pieces I needed.)
One of the reasons I enjoy this complete setup over, say, just upgrading the internal gears and leaving a plastic housing, is that the metal construction adds additional weight to the cradle of the suspension. This helps lower the center of gravity and adds some extra heft when skying the truck out.
If you're looking to add some power to your SMT10 and want it to hold together, the Hot Racing Full Metal Locked Transmission comes highly recommended by me!