Monster Truck Madness – Trying to Figure This Out
Hey guys, happy Thursday!
It's a race weekend for me and I'm still trying to figure out how to tune the diffs on my Losi LMT. It's fantastic that it's highly tunable, but chasing that mythical race winning tune-up has been elusive.
What's caused it to be so tricky is that I'm racing this vehicle in a Spec Class where we have to use the stock tires on dirt tracks. This makes for very slippery conditions!
I put lighter 20k fluid in the front and rear but it still pushes hard. For an experiment this weekend I'm going to drain the fluid out of the front and rear to see how it feels (I'll leave a smidge for lube). I'm hoping that loosens it up substantially. Several buddies with LMT's will also be doing further experiments on track this weekend. As soon as I can land the setup I'm looking for, I promise I'll write up a longer article!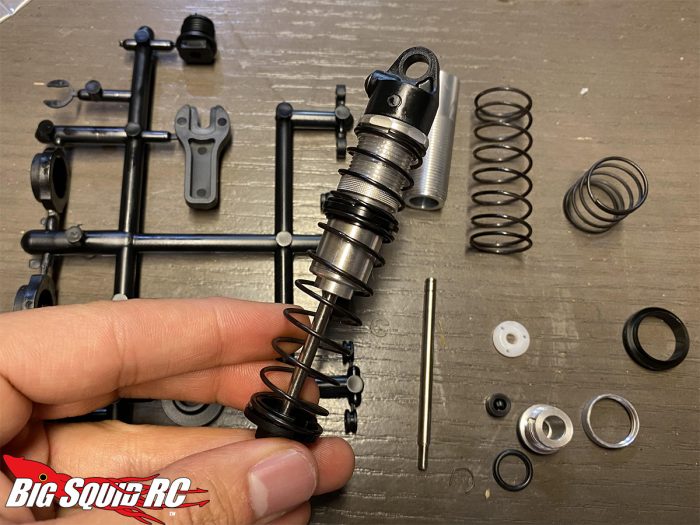 One of my other big projects to finish before the race is converting my Rotten Ol' Apple retro Clod (seen at the top of this article) from 8 stock Tamiya friction shocks to four G-Made 103mm Aeration oil shocks.
The friction shocks had been causing all sorts of stuff to break on the truck and the landings were throwing it everywhere but straight.  I'm hoping that these allow for a more competitive racing vehicle AND one that's a smidge more durable.
The other upgrade I made to Apple was ditching those stock Tamiya Clod tires and mounting up a set of JConcepts Firestorm tires in silver super soft compound. This compound isn't even available to the public- I scored a set of tester tires.
I mounted them to the Black-Edition Clod wheels so as to keep that beautiful smoked chrome look. Just know that if you decide to use stock wheels, the Firestorms will be pulled a smidge wider at the bead. You'll want to sure you have them glued or shoe-goo'd snugly.
Look for a long post-race write-up next week in MTM!