Monster Truck Madness – Turn Back the Clock Tuesday
This past weekend I was rummaging around in my basement, checking out some old boxes of Hot Wheels that I snagged from my parents house (yes, I used to collect HW Treasure Hunt cars) when I came across an old Pro-Line Racing flyer-catalog from 2002. This was like being stuck with a nostalgia-filled syringe.
It immediately brought me back to high school (2002 was the year I graduated) and plopped me in the middle of Maxx Mania, which was near its pinnacle at the time. Let's take a look at a couple of the spreads.
And hey, I'll admit that "Turn Back the Clock Tuesday" doesn't have the same snap that "Way Back Wednesday" does, but my column runs on Tuesdays so give me a break!
Ah man, that Maxx Performance Suspension Kit brings a tear to my eye. I used to race my E-Maxx and let me tell ya, you're truck wasn't s*** without one of these. As cool as the Maxx trucks were, they handled like bathtubs on wheels when in high gear at top speed. This kit gave it an aggressive stance that dramatically helped with handling. The parts were rugged, to boot.
I also have to give some love to the tire options here, specifically the Maxx Mulchers with those crazy long studs. I spent most of my time bashing at construction yards and racing on blown out dirt tracks, and the Mulchers gripped HARD. They also looked like something out of a Mad Max movie. Maybe one day Pro-Line will re-release them for the X-Maxx. That would be a fun way to aerate your lawn!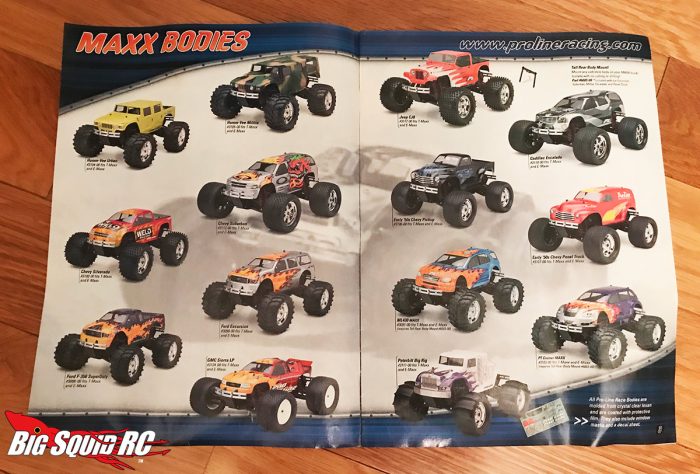 Now we are at the really good stuff- the bodies. Nowadays, with the variety of companies producing quality Lexan (Pro-Line included, obviously) you can pretty much get anything you want. It wasn't always this way though, especially when it came to larger trucks like the Maxx line. Pro-Line was leading the way, and every time there was a new release it was big news in the hobby.
Would you believe that I actually had every single one of these at one time or another, minus the PT Cruiser? I ruined a good portion of them because I hadn't quite figured out that Krylon wasn't the way the go versus actual lexan paint, but I digress. It was still fun painting them and seeing the wildly different looks that my E-maxx and my younger brother's T-Maxx would take.
If memory serves me correctly here, I actually got this catalog with my Cadillac Escalade body. This was when I finally realized that I needed to use polycarb paint, and did it up in bright orange with blue flames. It turned out pretty good and wound up being the lid I'd use for most of my races. I scoured the basement trying to find pics of it, but unfortunately my description will have to do 🙁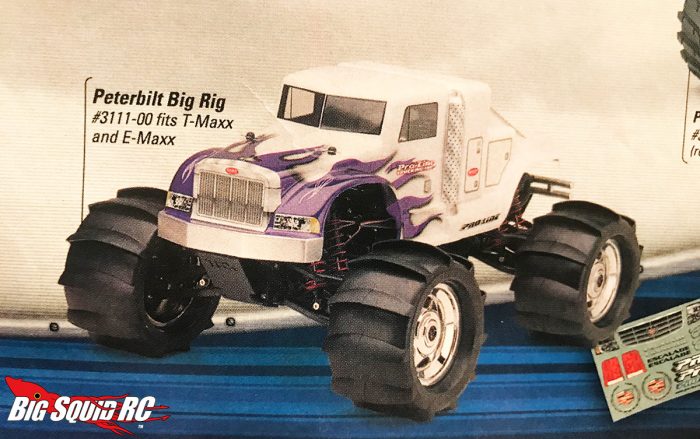 Before we go here, I want to call specific attention to this Peterbilt body. This thing was freakin' sweet and I really wish PL would bring this guy out of retirement. When my little bro got his T-Maxx, this was the first aftermarket body that we purchased. The paint job sucked (of course), but it was still really cool to have a monster big rig, ala Super Pete. If this ever comes back, I am absolutely getting one to put on one of my solid axle monsters.
Well, that's all from me this week. Hope you folks enjoyed this trip down memory lane!