Monster Truck Madness – Unboxing the ARRMA Granite 4×4 3S BLX and some Chit-Chat
Happy Tuesday! It's time for Monster Truck Madness.
Several weeks ago I wrote that I was trying to decide on a bash-truck, and in today's blog you can see what I chose – an ARRMA 1/10 GRANITE 4×4 3S BLX Monster Truck RTR. Check out what you'll find when you open the box:
For full specs on the Granite you can click here.
I chose the Granite 4×4 over its big brother, the Notorious, for several reasons. The smaller size jives more with the space I have available to regularly bash. The second (and most important) reason is that I have been dying to have a rig of this size to use with several killer aftermarket pieces to craft an old-school looking bash monster.
For body, I'm going to go with either a JConcepts '89 or '93 Ford F-250. I've been running that era of Ford body on my 1/10 solid axle trucks for awhile now and its totally my jam. They just released smaller versions of them (which should fit this truck), so I'll give one of them a try. Tires are going to be a bit more tricky, though.
JConcepts has Ranger tires and Midwest wheels, which are dead ringers for classic 48″ Goodyear Terras. I have always been a sucker for this look. Many of the first generation monsters used these back in the late 70's and early 80's. Here's BIGFOOT sporting set.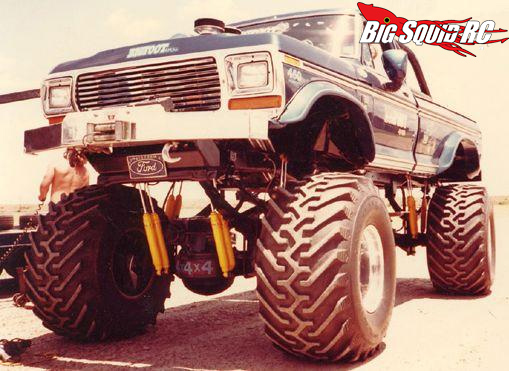 I've also been mulling over bolting together two sets King Fling tires and Dragon wheels to create dually tractor tires. That, coupled with Ford lexan, would give it the visual vibe of the iconic Krimson Krusher. Oh hell yeah.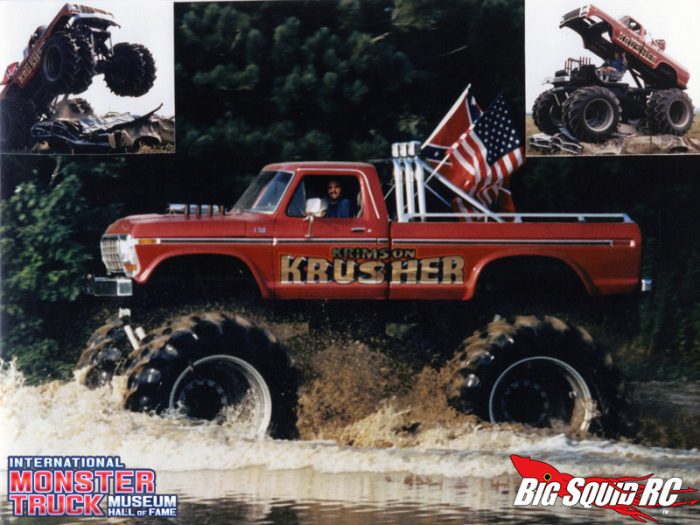 That decision can be made in time though, as before I go about modding anything the Granite 4×4 BLX will be subjected to a BSRC beat-down. You can look for the full review soon!
Oh, and before I go, if you are near the St. Louis, MO area this coming weekend, please head to Vinyl Images and checkout the King of the Monster Trucks event! Lots of high flying r/c solid axle monster truck action is on tap!
That's it for this week, folks. I promise a lengthy post next week recapping the KOTMT event!