Monster Truck Madness – Virginia Beach Beast
Hey everyone, this week on MTM we are going to feature a really cool build. Awhile back I did a brief highlight on my friend Matt Hall's awesome Virginia Beach Beast monster tank replica build, but it wasn't totally finished at the time. It is now!
It's a trick piece of kit. Here are some of the specifications on it –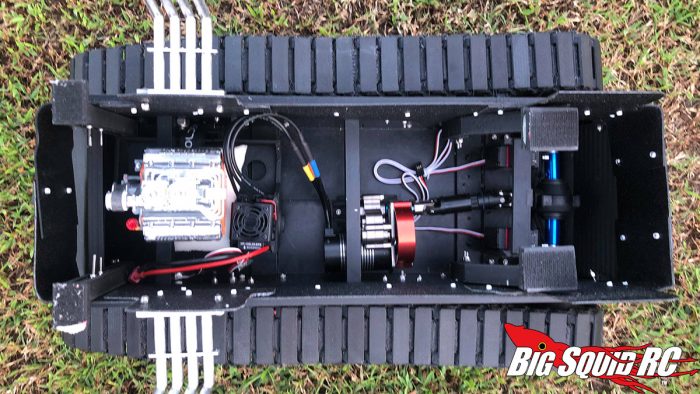 Chassis
– Lower- 6061 Aluminum angle, bolted, welded, powder coated flat black
– Upper- ABS sheet
– Aluminum license plates by Tay at SRDLV.com
Suspension
– Rear wheels- Independent coil spring
– Road Wheel Pods- Mono coil spring per unit
– 3D printed Nylon arms and PETG wheels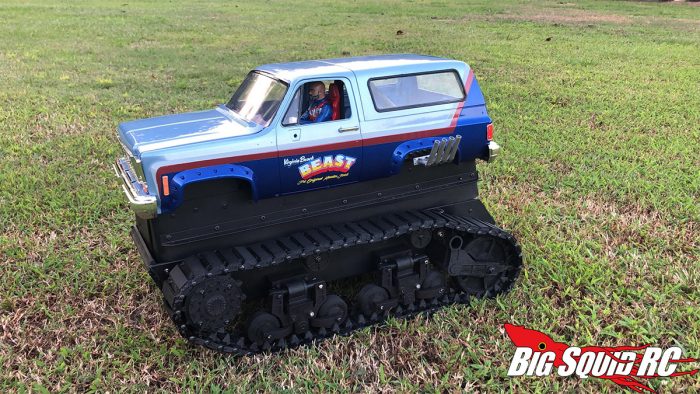 Tank Tracks
– 3D printed links from flexible TPU material. Each link is attached with M3 screws.
Drivetrain
– Axial style aluminum transmission
– Traxxas drive shaft with metal ends
– Aluminum shaft coupler 5mm to 6mm
– T-Maxx 3.3 Differential
– Aluminum shaft couplers 6mm to 6mm
– 17MM Aluminum Drive hubs
Steering
– 6mm ID Aluminum hubs for brakes with Neoprene washer.
– Outer Hubs fixed to the axle shaft. Inner hubs free spinning and joined by return spring. – – Servo pushes Inner hub that applies pressure to the outer hub. – – Minimum servo travel via end stop adjustment, servo speed reduced for sensitivity.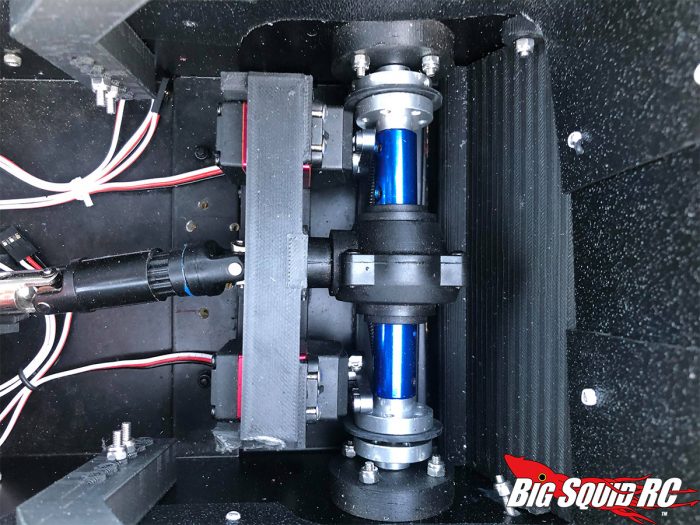 Box
– Purchased from U-line, painted flat black. Box Decals printed by FastSigns, Las Vegas
Misc
– 3D prints – Engine, headers, driver, seats, roll bar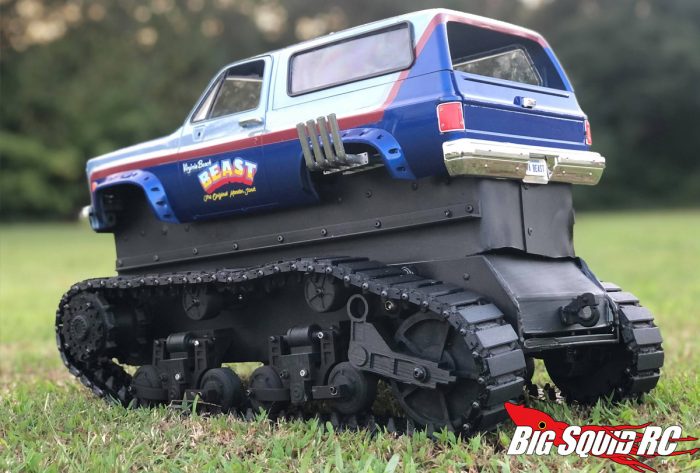 What a KILLER build! What makes it ever better is that this truck is a runner, not just a shelf queen! Great job Matt!
If you've got a really cool monster truck related project that you'd love to share, give me some pics and details at doug@bigsquidrc.com! Until next week, keep it on four's.