Monster Truck Madness – Wakin' Up the LMT
I just competed in my first racing event of the 2022 season this past weekend, so let's talk about all of those Losi LMT changes I made recently. Here are several articles discussing this build.
The TL;DR version is this- all the Treal, JConcepts, BowHouse RC and Spektrum goodies make my LMT feel like a COMPLETELY different vehicle than it was out of the box and, in this specific case, on the track last year in stock trim.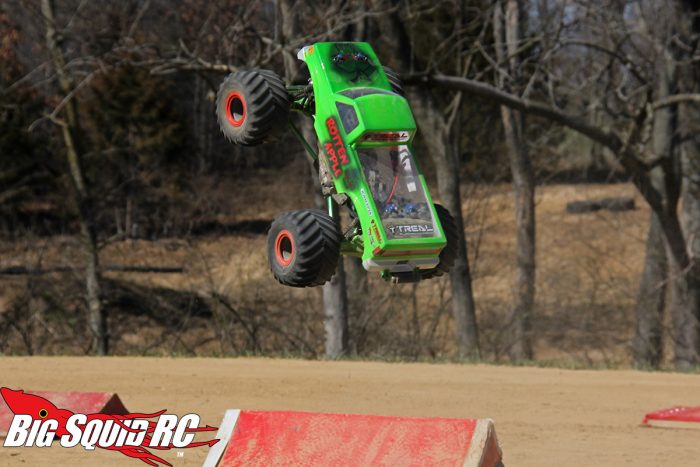 Look, I'm a gigantic fan of the stock Losi. It's the best out-of-the-box performing r/c solid axle monster of all time, and by a wide margin. That said, it's now a different kind of beast.
The Treal axle housings put A LOT of beef down low. This extra weight, combined with the BowHouse LCG Battery Tray and LCG Radio Tray significantly lowered the center of gravity and kept the truck planted. More on the Treal stuff in a moment.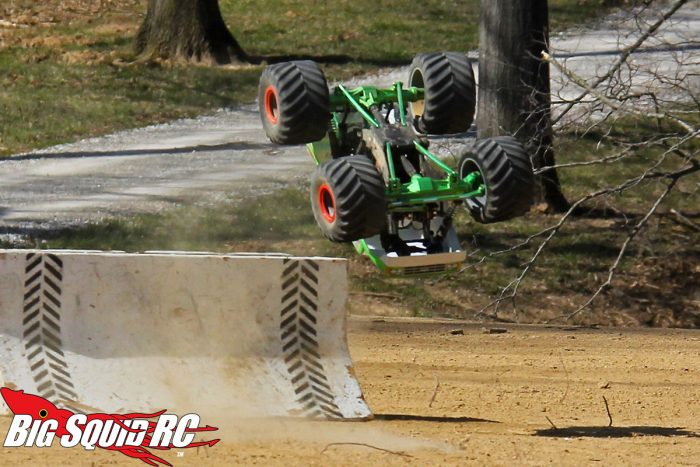 The JConcepts Renegades had plenty of traction. I was a bit unsure of the firm yellow compound tires that these are molded in versus the soft blues that the rest of their monster truck line-up comes in, but even in the 40 degree weather grip was not a problem.
I am told that the reason for this change in compound availability is that the LMT is a heavier truck that routinely runs on 3S, and therefore they wanted a slightly firmer rubber to compensate. Thus far, the choice seems solid.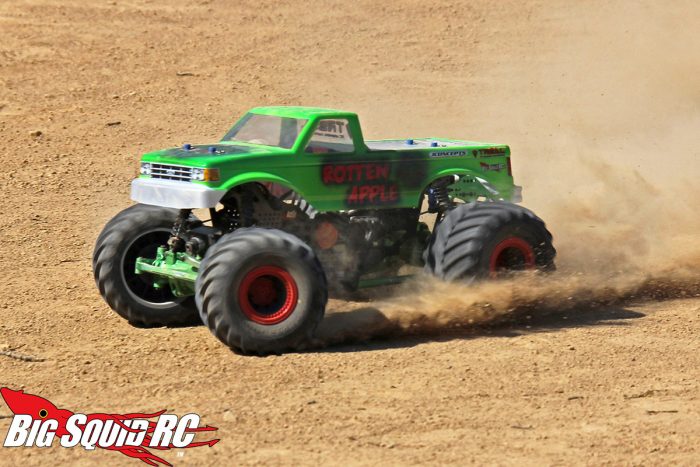 Let's talk about that Spektrum S6250 servo. Oh yes, what a fantastic upgrade that is. If you can make ONE upgrade to your Losi LMT, let it be this. With almost 400 ounces of torque on tap, it points the heavy beast around with absolutely no problem.
I've been sitting on this reader e-mail for a couple weeks, as it's pertinent to the discussion-
Hey Doug,

I loved your Treal LMT build and had a couple questions…

Are you going to stick with the stock servo saver?   I had the spline strip out on mine and had to upgrade to a Treal saver.

How do you think the anodizing will hold up on the links and axles?
I noticed the stock links on mine have lots of chips on them.

I got in on the Horizon sale and picked up a Grave Digger to go with my Son Uva Digger,  now my son and I can run together!

Keep on truckin!

Steve
Hey thanks Steve. Glad you got in on that Horizon sale a couple weeks ago!
So, your question about the servo saver. Yes, I've stuck with the stock one and am using it with the aforementioned Spektrum. Thus far, no problem, and this is with the truck taking a couple monster front end shots in freestyle competition. It feels responsive and not mushy at all, at least so far, so I'm planning to keep it for the time being. If it fails, well, then I'll upgrade it and will share that here.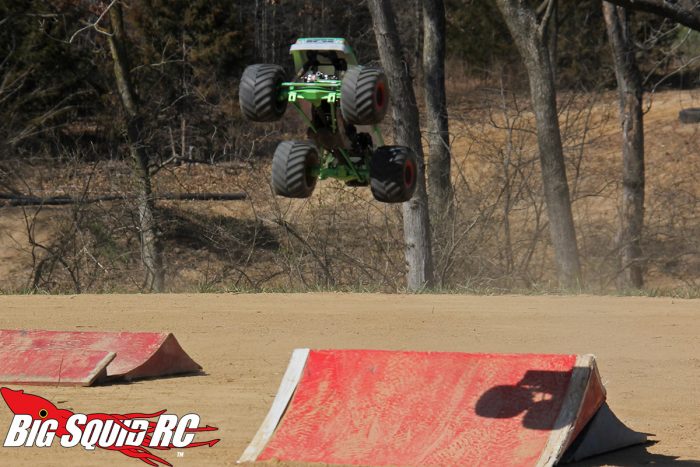 As for the Treal anodizing, well, I got to test that out pretty good the other day. As mentioned, it took a few wicked shots on the front end, and one of them (running into the flat backside of a wood ramp at top speed) was hard enough to punch the axle tip through the molded insert washer on the Aggressor wheel. (FYI I'll share a simple fix for this in an upcoming column) That wasn't going to stop my run, so I went three wheeling!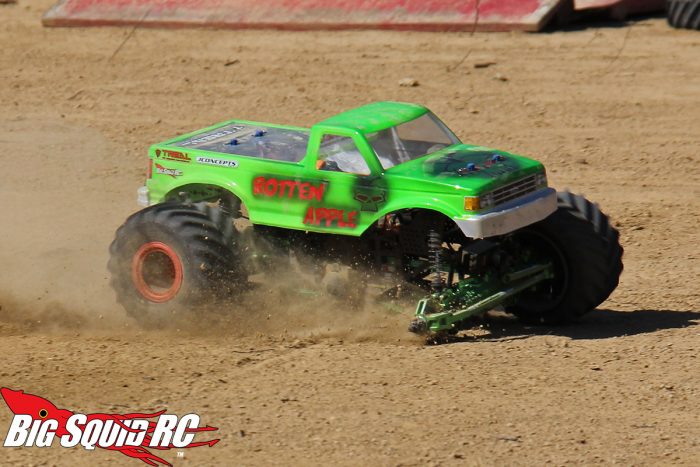 The axle and 4 link bar were dragged all over the dirt, and anodizing held up just fine, save for a couple little streaks. All anodizing will start to get nicked up when contact is made with the ground or debris, but thus far the Treals just have little streaks on the one knuckle area where I was dragging and that's as good as can reasonably be expected. I'm actually looking forward to this rig showing scars as I use it over the years!
I'm EXTREMELY happy with my LMT now. The truck is a freakin' beast. Last year I felt I could hardly keep it straight on the track. The first event out this year, I was runner-up in racing both brackets and finished near the top in Freestyle competition. I ADORE it.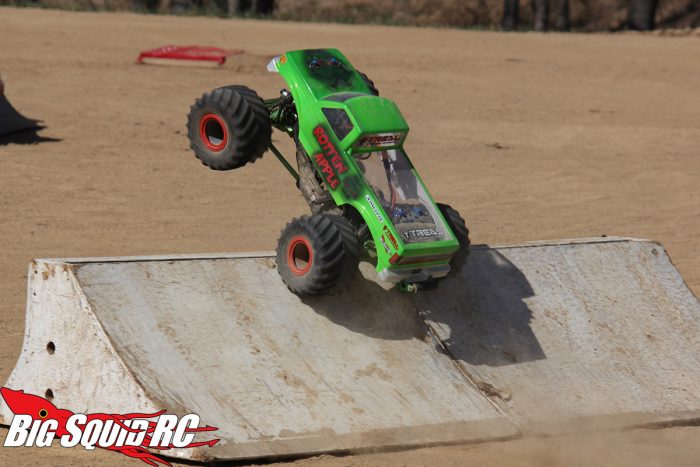 Hope you've all enjoyed my initial impressions of this build so far. Rotten Apple has become the most enjoyable truck to drive in my fleet, and that's saying something because I'd like to think I have some impressive iron in my collection!
As my racing season progresses, I'll keep everyone updated as to the durability and performance of my LMT. I intend to keep adding more goodies to it as well! Thus far though, big thumbs up.
Until next time, keep it on all 4's!