Monster Truck Madness – What's in a Name?
One of the coolest things about monster trucks is how each has it's own identity. Whether it's a jacked up '79 Ford on boggers or a 66′ tired machine tearing up a stadium in a 3D fiberglass body, they almost all have names. Even if there isn't an official name, they all have to have nicknames, at least.
This trickles down to r/c monsters as well, especially when you are talking solid axle trucks. Many folks like to run replicas of the real things, others choose their own unique identity. I'm of the latter school of thought. One of the most fun things about this segment of the hobby is figuring out what kind of identity to give my rigs.
Given that I routinely talk about my fleet of monsters but rarely ever discuss why they are named as they are, I thought it would be fun to share.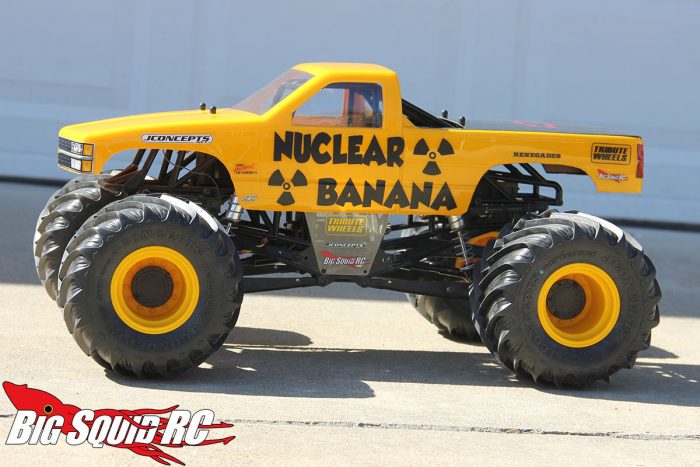 Nuclear Banana
Nuclear Banana is a modified Axial SMT10 that I've been racing now for three years. The name is a tribute to the infamous "Nuclear Banana" Pennzoil top fuel dragster that was driven by Eddie Hill. It was long, yellow and fast. When JConcepts announced their Snoop Nose Chevy body, I thought it would be extremely fitting. After splitting the original body in two, I started running a Raptor body on it. However, this truck recently had another Snoop Nose body painted to be even more "nuclear", but I'll wait to show that off for another column 🙂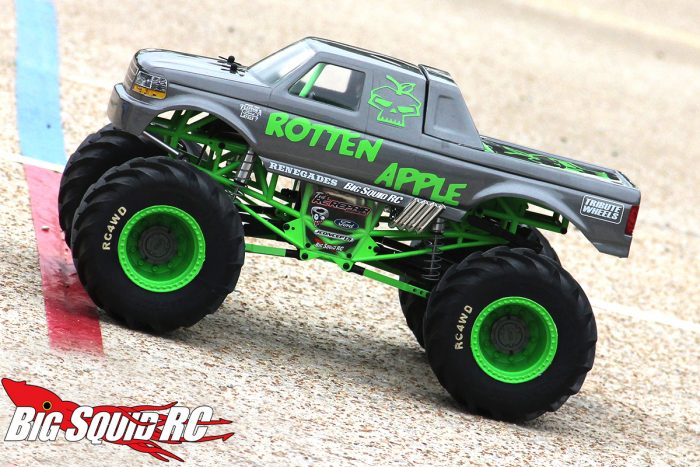 Rotten Apple
Rotten Apple is another modified Axial SMT10 of mine that I ran for about 3 years before recently retiring the chassis. This rig was my first SMT10 and I pre-ordered it the day the original Grave Digger was announced back in 2016. I've run it short wheelbase, long wheelbase and as both a mega and monster truck. I won my first ever points championship with it, so it holds a special place in my heart.
But what does the name mean? Well, given that it started life as a Grave Digger, I had a neon green chassis to work with. I didn't feel like painting or dying the chassis, so when I started figuring out what color scheme could work I thought gunmetal may look cool in contrast. When thinking of what name would work, I went with the title of one of my favorite Alice in Chains songs. I thought it turned out great. This is probably my favorite identity to run and I'm currently building a Rotten Apple II on an ACRC Havoc platform, utilizing a Snoop Nose body. Yet another thing to talk about in a different column 🙂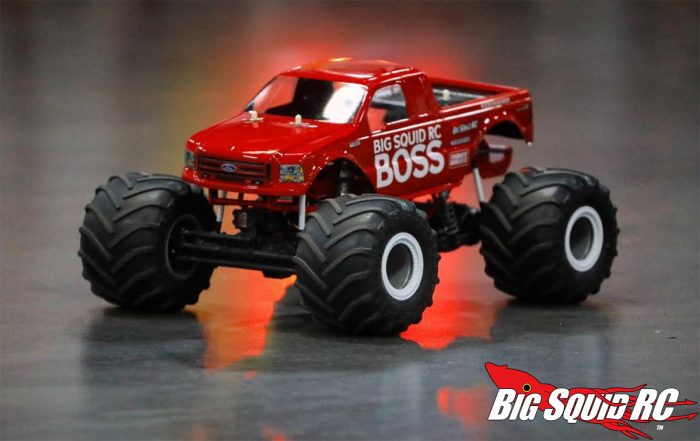 BigSquidRC Boss
Ok, so this one I have talked about quite a bit. The Boss is a custom ACRC Havoc chassis with Axial SMT10 guts, named in tribute to the legendary Budweiser Boss twin hemi'd pulling truck that terrorized arenas throughout the 80's and 90's. You can read more about the build and name right here.
While I like the simplicity of the JConcepts Ford F150 body, this thing has needed a big rig body to complete the look. Since the classic Pro-Line Maxx big rig bodies are basically impossible to find these days, I purchased a 1/8 Redcat Racing Semi Truck body. I am currently working on finishing it, and given that I have to paint the outside thanks to being pre-painted, it's been an experience. I'll show it off soon!
So, why do your monster trucks have the names that they do?