Monster Truck Madness – Yearning for an Xmaxx
Hello monster truck fans! Big shout to all of our other Squid staff! It's been tough to get outdoors and into bash spots/race tracks but everyone has been going like mad to continue to get good stuff on the site.
Cubby is always plugged in to what's going on with the hobby and continues to dish out his weekly Cub Report on Mondays as well as answers to reader e-mails in Ask Cubby. Racer Tim is a jack of all trades and does photos/video and helps with our reviews, as well as pumps out a variety of news posts. Our boy Martin has been killing it with the weekly drift column. We currently live a few thousand miles apart with a large ocean in between us, but I hope to get to meet him one day! We then have Jeremy ending the week with the Everybody's Scalin' column. Longtime readers will know that I started that regular feature back in 2013ish, but Jeremy's taken it over, made it his own and does a way better job than I ever did. I can't forget the boss-man Brian. He is working hard behind the scenes. Oh, and the staffers like Wrench and Hawaiian Chris who while they don't write all the time, they are always helping out with EVERYTHING.
Yes, it's a motley crew, but a crew I'm proud to be a part of!
OK, so what have I got going on this week?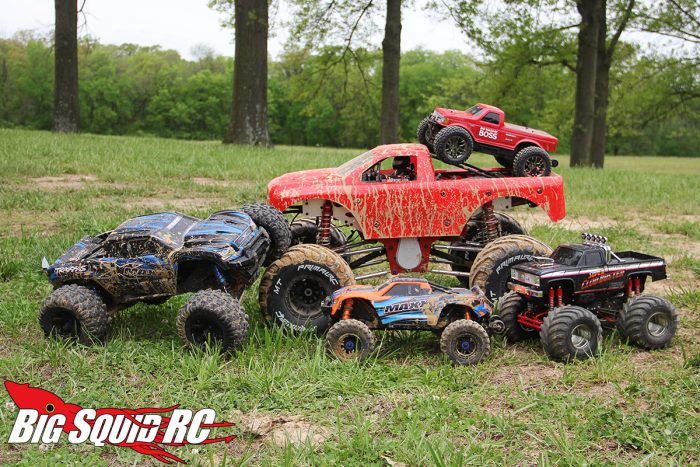 Ya know, the funniest thing happened last week. My monster truck club held a mega-bash/test and tune at our soon-to-be new dirt facility, and we had EVERYTHING on hand as far as the r/c monster truck world is concerned. Clods, Axials, home-brews, Traxxas Maxx trucks, ARRMA bashers, even two gigantic Primal R/C monsters. I wrote about my experience wheeling the big Raminator monster last week, in fact.
You know what the biggest takeaway of the day was, though? How incredibly badass the Traxxas X-Maxx is.
Compared to all of the other vehicles on hand, there is just nothing in its class, really. Sure, the 1/10 trucks are agile and a crap-load of fun and the big 1/5 Primals are loud and massive, but the X-Maxx is the perfect combo of size, speed and maneuverability.
My r/c monster truck mantra has always been "give me solid axles, or give me death!" but the X-Maxx has won me over.
The highest compliment I can give it is that while it's clearly NOT a solid axle monster and utilizes a not-so-scale independent suspension, it still very much FEELS like a monster truck whereas so many smaller rigs with similar configurations feel like modified buggies.
It's a gigantic truck where you feel its mass, but it's also wildly overpowered and relatively nimble for the size. You know, like an actual monster truck.
My friends in the full scale monster truck industry routinely bring theirs on tour to bash on the FULL SIZE monster truck tracks, and it's the only thing out there that can navigate the terrain and handle the abuse.
If you couldn't guess by now, I am currently lusting after one and working on a way to acquire one. My buddies and I have all made a pact that if a few of us can get them, we are going to race them in the Trigger King series. More on this to come very soon.
In the meantime, here's a quick video of us backflipping one on our freestyle pyramid ramp!