Montana Scale Design "Top Gun" Aluminum 2.2 Beadlocks Mini Review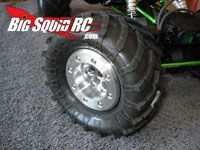 Montana Scale Design (www.montanascaledesigns.com) makes an incredible aluminum beadlock 2.2 crawler wheel. The picture is a shot of their "Top Gun" model on my test Axial Scorpion. The machining on these wheels is just perfect. The rings are machined in such a way that they really clamp down on the beads of the tires. Some people find that the narrow bead of the Pro-Line tires do not hold correctly in some of the beadlocks on the market. That is not the case with these MSD wheels. The Pro-Line Mashers in the M3 compound hold perfectly to this wheel. Montana Scale Design really did their research into what tires were in the marketplace and made certain that they would work with their wheels. These wheels cost about twice what a set of plastic beadlocks would cost, but that cost is well worth it. These screw holes will not strip out like on the plastics, so you will get years of use and tire changes out of these. Also, the heavier weight of these will keep your weight low to the ground, and allow for better traction due to the wheels pressing down harder on the rock surfaces. I have noticed a good deal of improvement in these areas since switching to these wheels. Best of all, according to the Montana Scale Designs website, they are backing these with a LIFETIME GUARANTEE!!! These are an investment worth making.
If you head over to buy some, make sure to tell them Big Squid RC sent ya!