More ESC/Motor combos from NOSRAM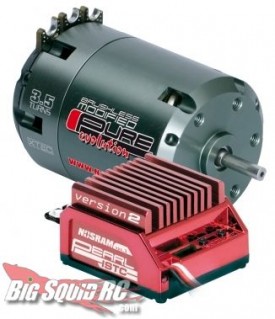 NOSRAM, a company that has been in the game pretty much since the game started, has a couple new brushless ESC and motor combos.  Based on their Pearl ISTC V2 ESC, the combos come packed with either a 5.5T or 6.5T Pure Evolution brushless motor (not the 3.5T that's in the picture).  The team at NOSRAM suggests the 6.5T for 4wd off-road racing, while the 5.5T is more suited to 2wd.
If you're unfamiliar with NOSRAM, it's because they're primarily in the Euro market, but they have been extending their reach in the last few years, though they're still missing a US distributor.
Check out their new products on the NOSRAM web site.