More Info ECX 1/8th Revenge Type N Nitro Buggy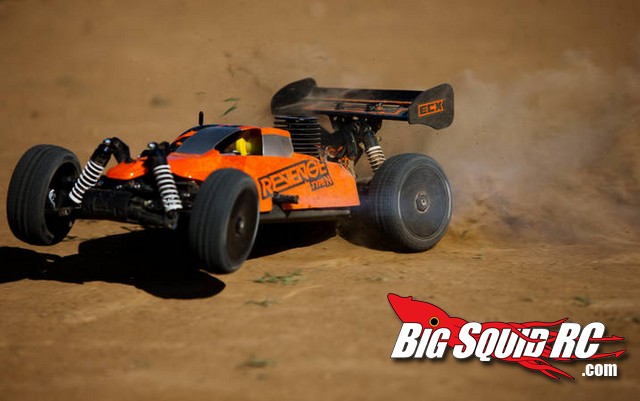 Along with the new Revenge Type E the crew over at ECX also announced a nitro powered version called the Type N. Not everyone is into electric, some people prefer the sound and smell of a nitro burner. Some companies haven't put out a new nitro car in ages, ECX should be complimented on accommodating the piston spinning crowd.
Here are some of the features and specs of the new ECX Revenge Type N–
* Street price- $349
* Projected availability- Late October 2012
* Spektrum 2.4Ghz radio system
* Waterproof SR200 receiver
* Pull start Dynamite Mach 2 .21 Sport nitro engine
* Waterproof electronics
* Full time 4wd
* Waterproof high-torque Dynamite servo's
* Aluminum Oil Filled Shocks
* Full ball bearings
* Dynamite SpeedTread Tires
* Chassis- 3mm Plate 6061-T6 Aluminum
* Fuel tank capacity- 125cc
* Length- 19.1 inches
* Wheelbase- 12.7 inches
* Width- 12.1 inches
* Weight- 6.7 lbs
We will pass along more information on the new Revenge series buggies when we can, until then you can get more information right HERE on Horizon's official website, and right HERE on the official ECX website.
Has it been a while since you read our ECX Torment review? Check it out right HERE.