More Info- TrakPower VR-1 DC Dual Battery Charger and DPS 25 Amp Power Supply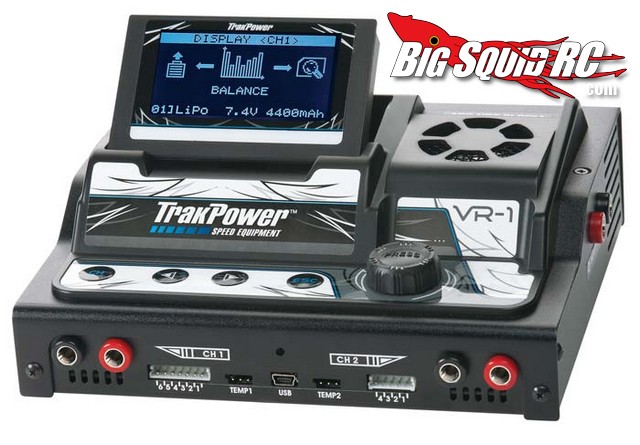 Since we first reported HERE, TrakPower has released more information on their new VR-1 Dual Channel Charger and DPS 12 volt 25 amp power supply.
The computerized DC powered VR-1 can charge two batteries at once and hosts a slew of the high end features that you are looking for. Some of the specs and features include-
* Fast Charge Current: 0.1-20.0A (0.1A increments)
* Discharge Current: 0.1-10.0A (0.1A increments)
* Charges 1-6 cell LiPo/Li-Ion and LiFe
* Charges 1-14 cell NiCd/NiMH
* Charges 1-12 cell Pb (Lead Acid)
* Capable of charging two different chemistries simultaneously
* Docks directly to the DPS Power Supply eliminating cables and freeing up pit space
* Charges at 20A on channel 1 (up to 6S) and 6A (up to 4S) on channel 2
* Tiltable reverse backlit (128 x 64mm) 21×8 character graphic LCD display
* Display Backlight: White
* Four membrane pushbuttons with jog/dial switch
* Includes battery storage mode
* Input Voltage: 11-15V external DC power supply
* PC Communications: USB to UART device type
* Case Material: Aluminum and plastic
* Cooling System: Built-in, two 40mm and one 25mm DC fan
* Case Size: 7.1 x 6.1 x 2.5″ (180 x 155 x 65mm)
* Weight: 2.1lbs (970g)
* External Port: Temperature sensor probe, Mini USB
* Delta Peak Detection: NiCd: 5-25mV, NiMH: Zero-15mV/cell
* Trickle Charge: Off, 50-500mA, auto
* Charge Cutoff Temperature: 50-176°F (10-80°C)
* Charge Voltage: NiCd/NiMH: 2.0V/cell (fixed), LiPo: 3.7-4.2V/cell
* Balance Current: 300mAh
* Discharge Cut-off voltage: NiCd/NiMH: 0.1-1.2V/cell, LiPo: 2.5-4.2V/cell, Li-Ion: 2.5-4.1V/cell
* Discharge Wattage: 80W
* Balance Cells: 6 cells
* Memory: 40 models
* Charge Method: CC/CV for lithium types, Auto, normal, linear, GMVIS, Impulse, reflex and repeak for Ni-XX
* Channel 2: Fast Charge Current: 0.1-6.0A, Battery Types/Cells: NiCd/NiMH: 1-10 cells, LiPo/Li-Ion/LiFe: 1-4 cells
* Part #: TKPP5000

To perfectly power the VR-1 is the new TrakPower DPS 12 volt 25 amp power supply. The DPS pumps out 25 amps of power and mates right up as a base for the VR-1, saving space on your table and generally looking very trick. Part number for the power supply is #TKPP5505.
Street price for the VR-1 charger is $199, while the street price for the DPS power supply is $99. Hit up the official TrakPower Website for more information on this uber charging combination.
Hit THIS link to read more TrakPower news right here on BigSquidRC.