MRC 1:16 Scale Brushless Truck and Truggy
New from MRC are these 1/16th scale brushless Truck and Truggys! Some of the highlights are:
Included Brushless system and LiPo Pack, Oil Filled Shocks, 3 differentials, full ball bearings, blue anodized aluminum shock towers and upper plate, 30mph, and what looks like a transparent blue steering servo! Not sure that will be in the final production model or not.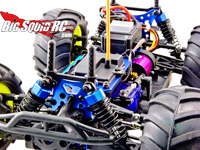 I have to say, I like seeing RTR's coming with brushless and LiPo's right out of the box.