Muchmore Racing Power Master Legend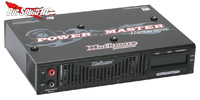 It looks like Muchmore Racing has released a contender for the most uber power supply. The Power Master is a 40A dual power supply with LCD monitor and features their Cell Master Legend docking system. It has overload, short circuit and temperature protection, adjustable speed cooling fan, and the unique docking system for use with the Cell Master Legend Chargers.
Check out the Muchmore Racing Website for details.