Muchmore USA Folding Pit Lamp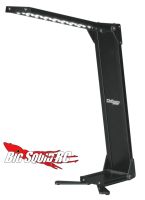 I am of the firm belief that there is no such thing as too much light.  All my home light fixtures have two 100 watt  bulbs in them (60 watt limits… pshh… what does UL Labs know… nothing… that's what), my curtains are opened any time the sun is out, and when I'm at my workbench I wear a super bright LED head lamp.  But with Muchmore Racing's new 12V LED Folding Pit Lamp I may just be able to dump the goofy head lamp.
The pit lamp features a lightweight and durable aluminum frame, sturdy fold out feet, it's fully adjustable so you can shine the light where you need it, and when you're done it folds up nice and compact so you can throw it in your pit bag and go.  The lamp can be powered by sources from 7.2V up to 13.8V.  You'll be able to get it in black or blue, and the MSRP is $99.99.
Check with Muchmore's web site for more info.