My Special Early Cub Report!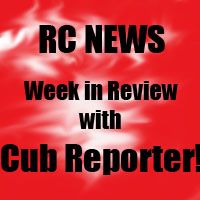 It's Friday, which means one thing in the rc industry, no press releases on new products over the weekend! So let me dive right into the highlights of new releases this week.
The biggest news this week- the Novak 1/8th scale conversion kits. It's quite obvious that the next big thing in rc racing will be 8th scale electric off-road. There are a couple rumors why there is no OEM 8th scale electric buggies at this point. The first being the fear of litigation related to lithium battery fires. The second being that several car manufactures have tried to make a kit, but drive-line failures due to the huge torque of BL and Li-po's have kept them from releasing a kit to the public. Either way, the Novak conversion kits will have a huge impact on the number of electric 8th scalers you are going to see at your local tracks this
summer. Novak was the first to go mainstream with car specific brushless set-ups, now they are the first to mainstream electric 8th scale. So props out to Bob and the gang at Novak for once again releasing a forward thinking product.
On the brushless note, LRP released info on their new Vector X-11 BL motors this week. I can see some ole' school, brush cutt'n, comm dropp'n, dyno love'n coots drooling at these new motors. But, I don't think more brushless motors do anything for the health of the sport. The whole premise of using brushless is to buy one
motor, use it for a decade, then replace the bearings and race another decade. LRP and Novak have gone motor crazy as of late, releasing seemingly endless mounds of BL powerplants. Novak boasts over 24, yes, TWENTY FOUR different BL motors, and I can't bring myself to count how many LRP has. There are really only three BL motors needed from any one brand- 1. Drivable 2. Fast and 3. STUPID. Perhaps I'm obtuse to why there is a "need" for dozens of motors, if that is the case, please email me at cubbyreporter at yahoo.com to show me the light. And while you're at it, send me a good reason why any BL motor should ever be used in a "stock" class.
That's it for this week. I've got an early flight out to spend an insufferable week in sunny Florida covering the largest rc car race on the planet for BigSquidRC.com. Support your local hobby shop, watch AMA Supercross for the first time in HD Sunday at noon EST on CBS, and get off the net, go pull some trigger.
Sincerely,
Your Cub-a-dub-in-your-tub Reporter