Mystery Vehicle Contest, Week 11 Entries!

We are mixing it up this week for the Mystery Vehicle Giveaway, so PLEASE READ THE NEW RULES below.
If you have not heard, we are giving away a Dozen Mystery Vehicles! One a Week for 12 weeks! The vehicles may by nitro or electric and are from the following companies: ARRMA RC, Team Durango, Duratrax, and Thunder Tiger!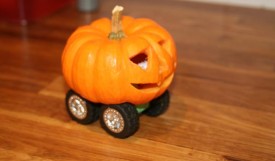 Since it's almost Halloween, and everyone will be busy with pumpkins this weekend, why not have a little fun? To enter, you need to EMAIL in a picture of a RC/BigSquid related pumpkin. You can carve out a car, or a logo, or whatever. Be creative! Send Email to: brian (at symbol thingy) bigsquidrc.com.
RULES UPDATE: Thanks to everyone that's sent in pictures so far. But we apparently didn't make something clear. We want you guys to go have fun, and hack a pumpkin, or draw on it, or something. Just adding a photoshoped BSRC logo to a pumpkin isn't what we are looking for. We will accept everyone's photo's so far, but PLEASE go find a a pumpkin and get creative.

Here is another example.
ALL entries must be in by 8pm cst. Monday October 29th. And we will announce a winner at 10pm CST. Don't worry, the winner will still be random from all valid entries. So if yours isn't the best carving, it's ok!
Because of shipping issues, this contest is limited to the continental United States Only. Sorry. Getting radio and other equipment overseas and across boarders lately just isn't that easy any more, and costly.
Comments are turned on for this post, if you feel in the mood to chat it up. If you are bored, why not tell us if you watch RC related videos. Do you watch them on youtube? How many do you watch? How often? Keep in mind, the comments are just for fun this time. To enter you need to EMAIL a picture of a RC related pumpkin carving.
Good luck, and have fun!