New 32-Pitch Pinion Gears from Novak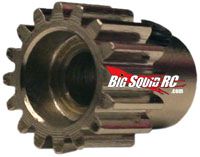 Team Novak is expanding its line of gears with the addition of 32-pitch 5MM
Steel Pinion Gears. These precision-made gears mesh with any brushless motor with a 5mm output shaft, including Novak's HV-Series of Brushless Motors (#3524-3527), and can be used to power Monster trucks, including the Traxxas E-Maxx, and HPI E-Savage. Check the NEW Product Forum for the full press release.
I see this as a good sign. Electrics of all shapes and sizes are becoming popular, and it's cool to have some pinion gears that can stand up to the big abuse of a monster truck!