New ball bearing sizes from ACER Racing.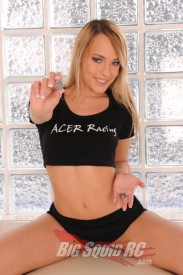 Our editor/publisher/boss, Brian, is out of town for a while, so I have total control over the site (insert evil laugh here).  With that, I've decided to let you all in on a little secret.  The only reason we post news about ACER Racing introducing some new sizes of ball bearings is so we have a reason to post the pics of their hot promo models.
With that out of the way ACER has a bunch of new boobies … hot chicks … sizes of their super high-end, extremely smooth blondes, brunettes, and red heads … Ceramic Nitride bearings.  They are now available in all of the following sizes:  B, C, D, DD … 15x28x7mm, 10x22x6mm, 35x47x7mm, 30x42x7mm, 25x37x7mm, 25x37x6mm, 17x26x5mm, 12x28x8mm, and 10x26x8mm.
For more pron info be sure to check out the ACER Racing website.