New Bow-Tie track caps from Pro-Line
Pro-Line is the first manufacturer off the block to show support for ROAR's new racing class. The quick turnaround leads me to believe that this has been in the works in secret for a little while now. But anywho, let's get on with this.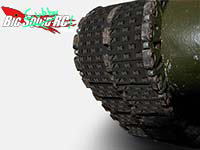 Pro-Line announced that they have created a line of track caps molded in their new ultra soft M4 compound featuring the Bow-Tie tread pattern. These should help tanks maintain good traction on medium packed, dusty tracks. Pro-Line will also be releasing a specially formulated CA glue which will keep these rubber caps strongly bonded to the metal tracks without you having to worry about shedding them mid-race.
For more info on these products be sure to hit up the Pro-Line web site.
Hopefully many more manufacturers hop on this new bandwagon and the new class thrives to the point where it can be taken from a demonstration class to a fully sanctioned class.