New entry level radio from Futaba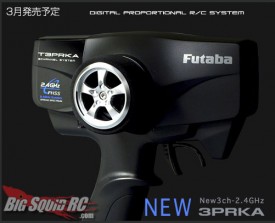 The Futaba mothership is showing off a new entry level radio.  Now I don't read Japanese, but from various other sources I was able to cobble together that the new 3PRKA will be a 3 channel, 2.4 GHz radio with some minor features such as trims and servo reversing, possibly more.  It's going to be targeted at RTR owners that want to make the jump to 2.4.  The Futaba JP site is listing a base price of ¥12915, which roughly converts to$155.  It's also suggested that this new guy will be hitting the Japanese market in March.
You can see the complete teaser image with the Japanese writing all over it at the Futaba Japan website.  When we get more info from some English speaking people we'll be sure to pass it along to you.
[hat tip to the Greek site RC Gossip for the info]