New experiences await with the Leap 3D Quadcopter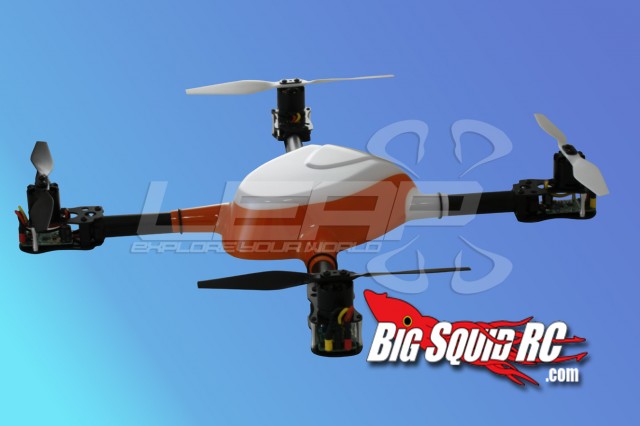 Trailing my build of the Invertix400, our friends at HRP have announced the details on the soon-to-ship Leap 3D Quadcopter. This quad is an almost ready to fly (ARF) and features an auto stabilization for all quad orientations (since it can sustain inverted flight), as well as a bail-out feature for beginner 3D pilots.
Other features include:
*Powerful 3D fixed pitch quad-copter utilizing bi-directional brushless motors.
*Bail-out, self-leveling function enables easy learning for beginners and allows experienced pilots to challenge their skills.
*Multiple receiver compatibility: S.Bus, X.Bus, DSM2, DSMX, and DSMJ(partially not compatible).
*Precise CNC carbon fiber machining with strict quality control.
*Flight control system engineered for extreme 3D maneuvers as well as stable flight.
*Powerful bi-directional brushless motors and specially designed ESC enables lightening fast directional changes required for extreme 3D acrobatic flight.
*Simple, robust design with low parts count allows easy maintenance and repair.
*Portable for easy transportation.
*Compatible with wide range of lithium polymer battery selections.
*Aerial photography and FPV capable with additional equipment (not included).

Specifications:

*Model: Fixed pitch 3D quad-copter with bi-directional motors.
*Blades: 8-inch high-strength polymer fixed pitch blades X 4
*Motor: 1400kV X4
*ESC: 25 Amp X4
*Span: 450mm
*Flight Controller: Six-Axis Advance gyro. 3D programming, auto leveling, bail-out function.
*Weight (w/o receiver and battery): 580-620 grams.
*Battery:  7.4V – 14.8V (2S – 4S). 2200-2600 mAh. (not included)
*Receiver: S.Bus, X.Bus, DSM2, DSMX, and DSMJ. (not included)
The quad is priced to sell at $430 and will be shipping in the future. More details can be found on Leap's  website Right Here.
For more quadcopter news on BigSquidRC, click here.