New from Robitronic: Protos v2 1/8 scale nitro buggy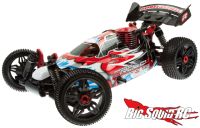 Hot on the heals of their recent 1/10 stadium truck, Robitronic has something new for you 1/8 scale nitro buggy lovers. They've re-engineered their Protos buggy and are introducing the Protos V2. Some of the changes include a new chassis layout for better balance, improved brake system with added front/rear brake balance adjustment, increased steering throw by 5%, and a redesigned rear chassis brace to allow for a larger range of gear ratios. It's also got a load of hot looking red anodized parts on it.
For a complete rundown of the additions and changes check out the official Robitronics announcement.