New Hot Bodies 21XZ-B Hara Edition Racing Engine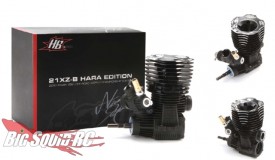 It looks like Hot Bodies is making a special Hara Edition of their 21XZ-B .21 race engine. This engine is supposedly the exact same spec as the engine Atsushi Hara used to take his second 1/8th buggy Worlds podium in Thailand in 2010. First his own buggy, now the engine to go with it!
This hopped up monster features the following:
– Race legal 3.5cc capacity
– Type 21Jslide carburetor (wider range of needle adjustment for easy setup)
– Lightened Hara Edition cooling head
– Hara Editon reducer and DLC coated crankshaft
– Perfect fit for your D8 Atsushi Hara Edition or any top-spec racing buggy
It looks like this will be avaliable exclusively at Hot Bodies Online for $499.98.