New HPI Racing RS32 Kits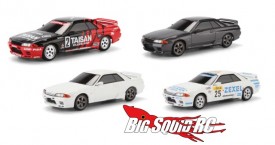 HPI Racing has four new RS32 1/32 scale kits for all the micro on-road fanatics out there. Each one of the kits includes a 2.4GHz radio, 4.8V 150mAh NiMH battery, C32 quick charger, and offers a drive time of around 15 minutes per charge. The vehicle features t-bar rear suspension, a rear axle gear diff, and swing arm front suspension with adjustments for spring rate and travel. Lastly, the molded rubber tires give good grip, long life, and can be ran on concreate, wood, or short-pile carpet. Best of all, you can grab one of these little guys for right around $100.
I really dig the micro stuff, but the fact that these look so scale is just awesome! I can already see some serious indoor road courses around the office for those rainy days! Be sure to check out HPI's website for more information.