New Kobalt Double-Drive Screwdriver TV Ad Features RC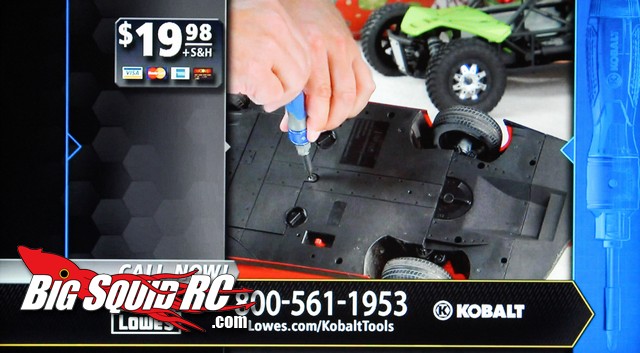 We were amazed the other night while watching the Monster Energy Cup live on SpeedTV. One of the commercials run during the broadcast was from Kobalt Tools and it featured a hobby grade helicopter as well as a Axial EXO Terra Buggy. Kobalt was advertising their new Double-Drive Screwdriver and it was cool to see them using hobby grade rc's to help illustrate how their new tool works. The new Kobalt commercial is more proof that hobby grade rc's are getting more and more mainstream.
If you haven't heard about the Kobalt Double-Drive Screwdriver its claim to fame is the fact that it is twice as fast as a normal screwdriver. Some of its other features are-
* Patented Double Drive™ technology 2 times faster than standard ratcheting
* Ergonomic handle with non-slip rubber grip
* Convenient thumb switch reverses gear drive
* Multiple sizes for all applications
* Bits storage function in handle
* 32-Piece Double-Drive Screwdriver Set with Bonus Pouch and Extension Bar
Street price on the Double-Drive is $20 and they are available right now down at your local Lowe's store. Hit up the official Lowe's Website for more information.
Looking for more rc on tv? Hit up THIS link.