New look for Reedy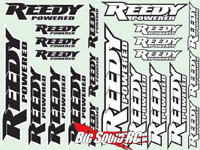 Reedy has changed their decals and banners. If you're like me and love to show off your brand pride jump on over to their site and grab some of these hot decals. Packaged in a set of two (black and white) these decals will stick to whatever you can find (wife's car, bosses coffee cup, etc) and with a clear overlay they are fuel safe. Cut to a perfect 4″ x 6″ size they will fit right in the pit box!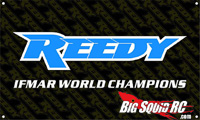 For the track side they've announced a new IFMAR World Champions banner. Sitting at 3′ x 5′ it'll fit in many places to show off. Screen printed and high strength make it long lasting and durable.
Stop by Reedy or your favorite shop and grab a few!