New Novak ESC/Motor Combo for Crawlers…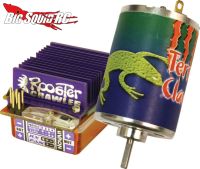 The orange team is putting out the goods today. Novak has a new ESC and motor combo that should satisfy your torque needs and please your wallet. The Novak Rooster Crawler has been paired with the budget 55T Terra Claw brushed motor for the low, low MSRP of less than $100.00 ($99.99 anyone? huh? amirite?). This is an ideal combo for the frugal rock crawlers out there and also those that just want their other kinds of cars to go very, very slow. Look for it at your local hobby shop some time in April.
Novak also has some new hats to cover your head, if your head requires covering. Bald guys, I'm lookin at you… They have a fancy black hat with pin stripes and an orange embroidered Novak logo, and a resplendant orange hat with a black embroidered logo. These are available now, so get one to keep your scalp out of the sun.


Novak's site has all the info you need.