New Picket and Six Pack SC Tires from Duratrax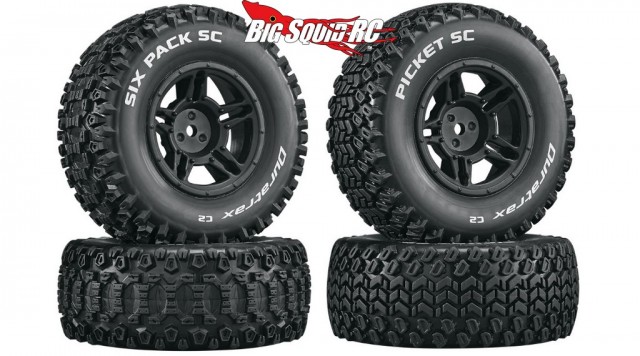 All you short course truck drivers have two new tire choices for your truck. Duratrax has announced they are bringing their Six Pack and Picket tread patterns to the SCT world.
We've been fans of the Six Pack tire design since we first tried them. They look cool and have good traction on a wide variety of surfaces. The new Six Pack SCs should give loads of traction to your SCT and we can't wait to try a set.
Everyone knows the world revolves around scale looks now days, the new Picket SC tires can bring that type of look to your SCT. With an aggressive full scale type of tread, they look good and should work well on everything from pavement to loamy dirt.
Both sets of tires are available unmounted, or pre-mounted for the Traxxas Slash 2wd, Slash 4×4, HPI Blitz, Associated SC10, SC10 4×4, Losi SCTE, and the ARRMA Fury. Click Here for more information over on the official Duratrax website.
Click Right Here for more Duratrax news on BigSquidRC.