New Products from Venom!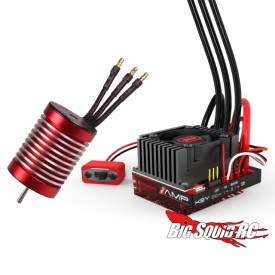 Our friends over at Venom Group have announced a few new products for July! First up are two new waterproof brushless motor and esc combos! Man, I love all this waterproof stuff! The Venom V540 3300kv (for 2WD 1/10 scale vehicles) and the V550 4200Kv (for 4WD SCTs) brushless motors will be paried with an 80A ESC, pre-installed battery connectors, heavy-duty bullet plugs, and a finned heat sink and fan. Plus they are waterproof! I know I said that already, but it's worth saying again! The combos will come in right around $150, and should be shipping as we speak.
Venom also has a new transmitter bag to keep that valuable radio from getting all banging up going to and from the track. The bag also has an inner and outer pocket for batteries, crystals, or extra Big Squid stickers 🙂 This too, should be avaliable right now.
Lastly, Venom Creeper fans will be stoked to see some new Creeper hop-ups to give your crawler an extra edge. Heavy-duty lockers, diff cases, a CVD/driveline kit, and a rear steer kit are avaliable now! I've heard good things about the Creeper, but I'm betting this stuff will take it up to the next level!
As always, make sure you hit up the Venom Group website for more information!