New RC10B4.1 Body and Wing
The A Team is giving you new RC10B4.1 owners a chance to express yourself. Team Associated has a new clear body for their recently released RTR buggy so you can choose your own paint scheme instead of having one thrust upon you. Now's your chance to break away from the crowd and be a unique snowflake.
This body features Associated's Interceptor 2.0 styling and comes with a 6.5″ high downforce wing, window masks, and decals. It's also a direct fit for the RC10B4 kit.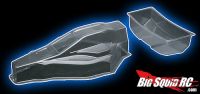 MSRP is $17.99, it should be available in April. Check Team Associated's site for more information.