New Super Class Rock Crawler offering from RC4WD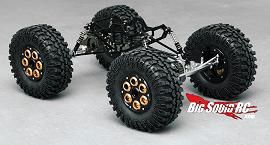 Many have made said that the Super size crawler are a "thing of the past", or have "died". At RC4WD they will never give up on the Super Class. They have been working to bring new items like tires, wheels, and axles to the Super class community. Now RC4WD has a complete Super Class kit.
Introducing the new Rockbull 1/8 scale competition crawler kit. The Rockbull is the first competition super class crawler with pendulum weighted adjustable beadlock wheels, Rok Lok 4.0 tires and advanced alloy Super Bully axle.
Listed below are some of the other great features that the Rockbull kit offers.
• Rockbull chassis with steel skid plate
• Super Bully Comp Axle (MOA)
• Rok Lok 4.0 Tires (8.62″ / 219mm tall)
• Spark aluminum comp shocks(100mm)
• Low Boyz 4.0 adjustable beadlock wheels
• Meets all USRCCA required specs
• Full metal suspension with metal rod end
• Full ball bearings
• Gear Ratio: 40:1
• Length: 25inch/635mm
• Width: 15.5inch/393mm
• Height: 7.25inch/184mm (Chassis)
• Wheelbase: 16.5inch/419mm
• Ground clearance: 4.25inch/108mm
Retail price $649.99
Visit RC4WD to view their entire product line.