New Tamiya Releases
To be unveiled at the Nuremburg toy fair in a matter of hours, Tamiya have got a whole host of new vehicles to keep with current trends on the market. Theres the usual pile of updated re-releases, a couple of limited edition kits and a heap of new hopups. Here are some noteworthy releases.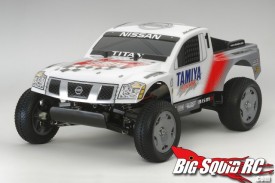 1/12 Nissan Titan
a DT-02 2wd chassis is a good chassis for beginners. Tamiya is obviously making an effort to keep up with more recent trends, as suggested by the CORR truck shell. This kit includes an ESC and motor, and is simple to build being only 2wd, but features oil filled shocks and a lexan shell. Get it fast and you'll get a free set of ball bearings too!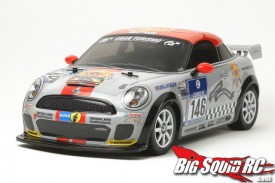 1/10 Mini JCW Coupe
For a long time, tamiya's M-chassis has dominated the racing class, and it's nice to see yet another kit with a fresh face. The mini coupe is a replica of the race car, and all the neccessary items to re-create the bodywork are included in the kit. You can get a set of matte gold wheels with it for free if you get your hands one one quickly.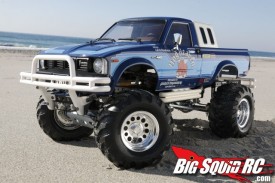 1/10 Toyota Bruiser
Some things are too good to let die. With locking differentials and a 3-speed manual transmission, it's no wonder Tamiya's Toyota Bruiser is popular with the scale crawler enthusiasts. Whilst it may look almost identical to the 80's classic,  this 2012 re-release has been further refined and tweaked to create a work of art.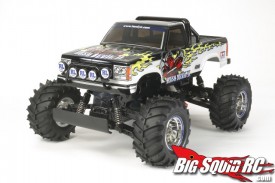 1/10 XB Blackfoot III
Available as a ready to run for the first time, the Tamiya Blackfoot III is a classic RC that every basher should own at some point in their lives. With it you get Tamiya's new Finespec antenna-less 2.4ghz radio system and a TEU-105BK ESC. Add a battery pack and you've got a perfect yard basher for lazy weekends, and a shelf queen to stare at and dream for weekday mornings.
 
These are just a few picks off of the huge list of new Tamiya releases for this year's Nuremberg Toy Fair, so keep an eye out for all of the limited edition releases!