New universal charger from CORE RC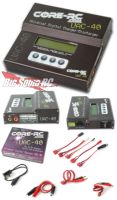 Schumacher and CORE RC have a new way for you to pump up the volume energy in your battery packs. The new UAC-40 Universal Digital charger/balancer/discharger/cycler is pretty universal in what kind of batteries it can charge, balance, discharge, and cycle digitally. You can power the UAC-40 from your AC outlets or a DC power source and it can put the power to LiPos (up to 6s), LiIons, LiFE, Pb (lead acid), and NiMH/NiCad (1 – 15 cells) batteries at a max rate of 5 amps. So whatever you're into, this charger has you covered. The full package also includes a bunch of adapters and charging leads for use with all the various kinds of connectors commonly used in the hobby. Confusingly, it doesn't include any types of balancing leads.
The one shown in the picture shows a UK style power plug, so we'll have to wait and see if they Americanize it, which I'm sure will happen. To get a lot more information click through to Schumacher's site.