New Vehicles: CEN Matrix Baja! CEN RC Monster Truck!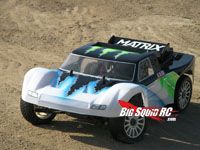 So I made a few phone calls to our spys in the trenches and came up with these. I have been told that these are still in testing, and both vehicles may change before we see them for sale. This first vehicle is being called the CEN Baja Matrix STX. It's a cool new trophy truck from CEN Racing based on the Matrix Buggy platform with a few changes including tires, wheels, body mounts and suspension. I think this will be a fun vehicle at the track for sure!

This next vehicle is a new monster truck! I was asked to not mention the name of the truck because it is still early, and might not end up being the final name. I was told it should be very competitive with the Savage as far as speed, durability and performance goes. It will be running a new Corsa .28 engine which is a new Italian brand of engines! I'm a big fan of the Genesis, so having a smaller version I think could be pretty cool!
Have a spy shot you would like to show off? Drop me an email, lets talk! I will keep any names/companies/information completely confidential!