New Weekly Column – Everybody's Scalin' For the Weekend, By Doug Welker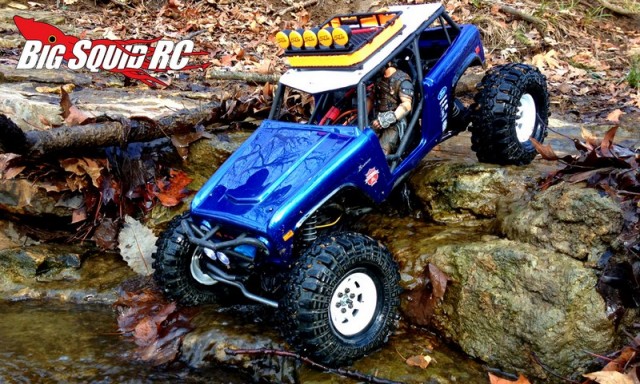 Seeing as how I'm the new scale guy 'round these parts, I guess I should take a minute to introduce myself. My name is Doug and I have a scale r/c addiction! I run the Show-Me Scalers club here in St. Louis, MO, and most weekends you can find us out on the trail. In addition to being a trail/crawling junkie, I also dabble in some of the more fringe r/c segments; scale monster truck racing, truck & tractor pulling, mud bogging, and dirt oval racing. If its scale then I've probably tried it at least once!
It's been a big week for Axial, what with the announcement of the Deadbolt AX10 and RECON G6 Jeep SCX-10. Both are sure to find their way onto many Christmas lists. For me personally, I was very happy to see the RECON G6 edition Jeep. It's basically a dove-tailed & hot rodded version of Axial's popular Jeep JK body, and it looks to perform well out in the bush. It also gives some much deserved props to the whole RECON G6 event staff, most notably founder Brian Parker.
Event director Brian Parker (or Parker, as he is known) works his tail off to put on these events all throughout the country, and this release caught him by complete surprise to him. Axial is the flagship sponsor of the series, and it's great to see them give the hardworking crew a big tip of the cap with a top notch kit!
I had the pleasure of running my first Recon G6 event last summer and it's safe to say there is nothing else like it in the world of r/c. It's a multi stage (day and night, so vehicle lights are required) cross country race that pits your little 4×4 against a brutal series of challenge gates. You are forbidden from touching your truck other than to make repairs, change a battery, or to hook up a towline to either give or receive help from a fellow competitor. A simple rollover can result in major lost time. Due to the difficult terrain, many vehicles do not finish the race. The motto of the series is "Finishing a G6 is like winning a G6!". You simply MUST attend one of these events if you have even the smallest interest in scale off-roading!
For more Recon G6 news on BigSquidRC, click This Link.