Nic Day Interview – RC Pro Series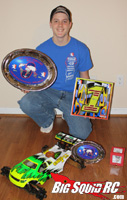 RC Pro Series Interviews Nic Day, the 2008 Intermediate Arena Truck National Champion
********************
RC Pro: Nic lets start out with where the heck did you come from? I mean last year no one knew you and all the sudden your winning everything?
Nic: Well. I starting racing hard at the beginning of the 07 season in KY. I ran the KY Pro Series and learned the ropes of racing and then truly stepped up my game for 08.
RC Pro: Yea just SLIGHTLY! LOL
Let's make the OLD guys feel even worse tell everyone how old you are.
Nic: I am 16 currently, this April will be going on 17.
I am the April Fool by the way.

RC Pro: LOL!
I'll remember that for future announcing!
So how long have you been racing?
Nic: I started running 1/10 mod truck at the end of 2006 at RCRCR in Owensboro KY. This will be my 3rd year racing Truggy and 1 year of racing 1/8 buggy outdoor.
RC Pro: I know your folks are always at the races did they get you into rc?
Nic: Actually a family friend started the RC bug and it went out of control from there. My parents are great supporters and I enjoy their company and help. I will say that when I was about 5 or 6 my dad had an old AE goldtub buggy he ran some.
RC Pro: Do you do most of the work on your cars?
Nic: Absolutely. My dad helps a lot during the school season as my high school is highly academic and as I run my own RC paint shop, NCDesigns, time can be limited. I will say I put my school work and painting business first, but it has yet to hinder my racing
RC Pro: Since this year was your 1st time running at RC Pro Division events, I believe you started at Dirtburners in St. Louis? What was your 1st thought when you got there and saw how many entries there were?
Nic: St. Louis was my first RC Pro division event. When I arrived the completely different atmosphere was wild. I was more excited than nervous as I did attend CRCRC that past winter so the crowd didn't bother me as much. The competition was great and I loved the feeling at those events. I did feel as though I was in above my head, since local races in KY are around 20 to 120 entries for points or money races.
RC Pro: I believe you TQed that race didn't you?
Nic: Yes. It was a bewildering moment. I had no idea I would have placed as well as I did. I mean people from all over were running in my class.
RC Pro: How many times did you actually TQ last year?
Nic: 3 times. St. Louis, Joliet, and the Finals.
RC Pro: Making a habit of that aren't you
Nic: I tried my best. But the guys in the Open class this year, I think will make that very difficult. Many have been racing a lot longer than I have and I have much to learn still.
RC Pro: That was the next question if you were ready for the Open class this year.
Nic: I feel like I am. I have honed my skills this winter as I started running buggy and THAT will make you learn how to drive. The buggy class is super competitive and I hope to be even faster in the truggy. I am going to try and wheel the new 2.0 Losi vehicles into the top positions. Hopefully.
RC Pro: Are you going to stay primarily in the Midwest Division or are you going to run in the new Mid South?
Nic: I will be running the entire Midwest this year again and I will be at the White House race as it is closest to us.
RC Pro: What other races are you planning to attend this year?
Nic: Hopefully, I will attend the Futaba Race at Dirt Burners this year as well as Roar Nats in Joliet. I also am looking forward to the Horizon Hobby race at Jtec again. The oval racing last year was a sight to see.
RC Pro: Yea oval is fun!
Did you pick up any sponsors after the Finals?
Nic: Not yet. I sent in my resume to a few companies but no luck thus far.
I don't think many companies are expanding their teams this year.
RC Pro: No seems most of them are cutting back right now.
You mention your school being rather academic. How are they about letting you out for racing?
Nic: Well we have whats called "excused" absences. So if I asked to be "excused" and allowed to skip school for racing, I would probably get laughed out of the building. But writing a "sick" note works fine. LOL.
RC Pro: Hopefully they don't read this interview!
Nic: If they do oh well. Only one more year left anyway.
RC Pro: So now I have something on you for at least a year……… LOL
Nic: As long as you find something for PB too, thats OK.
RC Pro: Trust me I have plenty on him!
Nic: LOL
RC Pro: That reminds me your kind of running with a rough crowd there aren't you?
Nic: I just give him the wheel when he acts up. Cant be too hard on the old guy though. I am going to have to clip his wings for this summer as he has turned into quite the flyboy lately.
RC Pro: Oh I can just hear him now when he reads this! I'll expect a call. LOL
And I'm sure you'll get one too.
Nic: I talked to him about it last night. He said he was just getting burnt out. He did have a rough season. But if he rags on me thats OK. Turnabout is fair play.
RC Pro: We give him a hard time but if you need anything you can always call him.
Nic: Thats for sure.
RC Pro: Is he the one that got you into traveling to these races?
Nic: Sure did. I am glad we went with them to the races. I don't regret that a bit other than putting up with him. LOL
RC Pro: Hahahaha!
Nic: He was voted most helpful racer at the Cancer Race in Louisville this past Oct.
RC Pro: Not a surprise!
Nic: I think he could be the track jester too.
RC Pro: He is gonna wind up with the big head now so his dew rag won't even fit.
Nic: LOL
RC Pro: Did it cause any problems because the 2 of you travel together and run in the same class?
And you beat him?
Nic: Well you know, younger and video games = reflexes and he tries his best. I will say though that this past year he did good job hanging on my bumper when I would pass him. He is quick on his good days.
He helped me to where I am now so I greatly appreciate it. There are several people I would like to thank for my success.
RC Pro: Well go ahead since we are on that subject.
Nic: I would like to thank my family, the tracks for giving me place to race, especially Todd Green of Bluegrass Hobbies, the Whitaker's, and Roger "Big Rog" Maynard. Also all my friends at the tracks that present great competition and support. Thanks.
RC Pro: So what do you have planned after you get out of school?
Nic: I am planning on attending University of Louisville to get my degree in Mechanical Engineering. I would like one day to work on development team of one of the RC Companies. Hopefully be a race/research guy.
That would be work I would love doing.
RC Pro: That's something good to shoot for.
Nic: Well if it doesn't work out, Mechanical Engineers are used everywhere so a job should be easy to find.
RC Pro: Good luck with that. The way this industry seems to be growing it seems they need more engineers each year.
Nic: They seem to be doing a great job, the new products are great and keep getting better.
RC Pro: You said your dad had an old gold tub AE? You can look at that car and see how far things have come.
Nic: For sure.
RC Pro: So your sticking with the Losi this year or does it depend on if you get a sponsor offer?
Nic: Losi straight up. I have only owned their vehicles and they are fantastic. They suit my driving style and are very capable.
RC Pro: There is a lot of benefit to not being sponsored at times. You can run the races you want to run and whatever brand equipment you want.
Nic: Yeah, but I would like to get the feel for a factory ride sometime.
A fuel sponsor is my biggest desire.
RC Pro: One of the things I see a lot is people pushing so hard to get a factory ride. To the point of they forget why they started racing.
Don't forget why you started.
Nic: I will admit that I put an extreme amount of pressure on myself to do my best and I cant win them all. My parents help me keep my head on straight and racing is nothing but fun for me.
RC Pro: As long as you keep things in perspective good things will come.
Have fun and it will all fall into place.
Nic: I noticed when I get in that mindset I do worse. I get too competitive, but I have been relaxing a lot and it has helped greatly.
When tough times happen I try to say "oh well" and learn from my mistakes or misfortune. I don;t always succeed in that but its works for me. Winning is icing on the cake. If I learn something, it has been a good day.
RC Pro: If you don't learn something each day then you aren't trying.
Nic: I have yet to have a boring race weekend and I always learn something no matter the size.
RC Pro: It's hard for things to be boring with some of the guys in this industry!
Nic: PB is one of them.
Its hard not to laugh around him.
RC Pro: I knew you would go there again!
Nic: I don't see him in the winter as much so I have to get my shots in somewhere.
RC Pro: I see your folks working hard in pit lane are they still having fun?
Nic: I am pretty sure they are. They are my best pit crew. It would be difficult without them. We all have bad days but someone always tries to throw in some comedy to relieve the tension.
RC Pro: So I guess it's about time to wrap this up. I guess I'll see you in Tennessee next month?
Nic: Sure will, see you then Carlton. Thanks.
RC Pro: Thanks Nic and good luck this year. I think you will be fine in the Open class.
Nic: See you later Carlton.