No Limit World Finals – Day 2
Day one of the No Limit RC World Finals went off with a bang! Dennis Anderson gave the opening speech welcoming all the racers. The day started off with early qualifying for the Baja drivers who were also driving No Limit style racing. After the Baja guys were done the rest of the crowd ran their respective classes. The day wrapped up around 8PM. There are all the usual suspects here with one exception Losi. I was told they show up on the final day.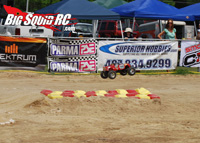 I met up with Dave From BuKu, hung out with Heather from Bluegroove Concepts, spoke with Rick from SPI Racing Wheels, was wowed by Dan and his Kershaw Designs creations, talked with the HPI Racing crew and met a ton of great people. The UK branch of No Limit RC was out here too! There are two more days of racing starting off this morning with the Show and Shine competition.