Novak Epoxy dipped 550 stators for short course 4×4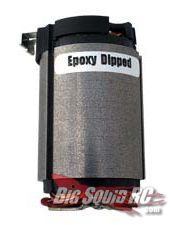 Novak is expanding their line of epoxy dipped stators for their Ballistic line of brushless motors.  The newest release is specifically for their short course 4×4 focused Ballistic 550.  This new stator comes in a 4.5T wind for all the power the 4x4s need.  For the uninitiated, epoxy dipping makes motors more durable and have a longer life when used in harsh conditions.  The epoxy prevents the wires from contacting each other and other parts of the motor, keeping things like electrical shorts and premature wear from happening.  For a good primer on the benefits of epoxy dipping, check out this document [PDF file] that Novak put together.
This 550 stator will be shipping soon at a list price of $82.99, though street price should be cheaper.  Check out the Novak website for more info.