Novak Goes for a Tripple Update
Word from Novak is they have three new product updates coming soon to a hobby shop near you!
First up is the GTB 2 Sportsman Racing Brushless ESC. It's designed for the entry-level racer, with all the bells and whistles but without any of the PC adjustments. The idea being, it's perfect for spec racing because you don't have to worry about drivers being able to mess with the settings. Anything to help make it more fair for new people to the hobby, we are all for!
Next up is the Goat 2S Crawler Brushless System 21.5T. If your interested, you can read our review of the original GOAT here. The system includes a sensored 21.5 turn Crawler Sintered Brushless Motor as well as everything you need right out of the box!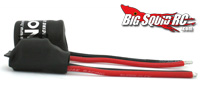 And rounding out their tripple play is the Novak Lightweight Power-Trans-Cap Module for 2S LiPo. The new Trans-Cap is smaller with a more compact design.
Visit Novak's site for all the details.