Novak GTB 2 now available in C-C-C-COMBOs!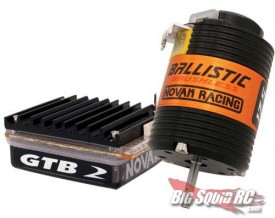 Novak's popular sportsman class ESC, the GTB 2 Sportsman, is now available in combos with their Ballistic brushless motors.  The GTB 2 has all kinds of great features, but it more notable for what it's missing, namely timing adjustments and a pc data port, making it ideal for spec class racing.  Some of the things it does include are drag brake for crawling, thermal overload protection, minimum brake adjustment, and built in low voltage cutoff.  The combos will come in two flavors, one with a 17.5 turn motor and another with a 13.5.
Unfortunately there's no word on a price or release date at this time.  For more info check out the Novak website.