Novak GTB2/SS Pro 8.5T Brushless Sportsman Racing System Review
THE Novak GTB2/SS Pro 8.5T Brushless Sportsman Racing System Review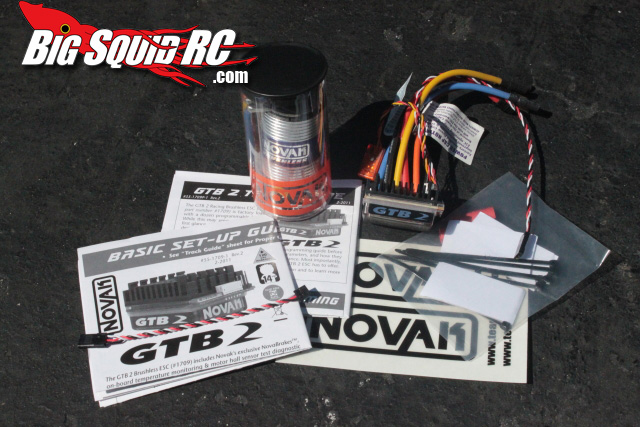 Novak has an ace up its sleeve- their GTB2 system comes all soldered up ready to be put into your short course truck. Is it a quality system? Is having everything soldered up really that convenient? Is is fast enough to do that job? Is it worth your money? Read on…
From: Novak
Direct Link: GTB2/SS Pro 8.5T Brushless Sportsman Racing System
Street Price of System: $160
Reviewed by:Cubby.
Specs Speedo-
Footprint- 1.16″ x 1.47″
Weight- 1.29 oz
BEC- 6 volts/3 amps
On Resistance- .0004 ohm per phase
Cell count- 4-6 cell Ni-MH, 2 cell Li-Po
Li-Po and LiFe Cut-off- Yes
Motor Limit- none (side of the box)/540 3.5 turns, 550 4.5 turns (from the manual)
Wire- 14 gauge
Status LED's- 5
Water resistant case- Yes
One touch set-up- Yes
Adjustable Timing- No
Fan- No
On board Hall sensor- Yes
Thermal Overload Protection- Yes
Warranty- 120 days
Motor Specs-
Size- 540, 2.08″ x 1.41″
Sensored- Yes
Turns- 8.5
Output shaft- 3.2 mm
Weight- 6.3 oz
Output wattage- 280
Kv- 5000
Magnet- 12.3 mm, Sintered, Neodymium
Front oversized bearing- Yes
Hand Wound- Yes
Warranty- 120 days
What's In The Box– A Novak GTB2 speedo, a Novak SS Pro 8.5 turn motor, manuals, stickers, zip ties, double sided tape, heat shrink tubing, wire harness
Build Quality– Quality looked typical Novak, very nice. Nothing looked or felt cheap.
Test Drivers– Cubby, Brain (The Brian), Ryan (Race'n) R.
Test Venues– RC Outlaws in Collinsville Illinois, RiverCity Raceways in Peoria Illinois, streets of a local sub-division, Costco parking lot, grassy backyard
Set-up Notes– Test truck was the same HPI Blitz we used for our latest Novak Havoc and Viper speedo reviews. Gearing ranged from a 16 tooth to a 22 tooth pinion, spur was stock. Hitec threw the front tires around. MaxAmps supplied the juice with their 2S 6500 mah Race Spec packs. A Futaba 3PRKA radio ran the show.
Ease Of Use– The Novak manuals are clear and concise, after reading them you won't have any issues calibrating the speedo to your radio or making programming changes. If you are using a Traxxas connector on your batteries you won't even need a soldering iron for the install. All the motor wires are soldered up (bullet connectors make the connections), as is a male TRX connector on the power wires. The Novak GTB2 system is plug and play, no need for soldering skills.
Efficiency– Yup, I remembered my stopwatch again. LOL. I used the same routine as when testing the Viper system- I drove for 15 minutes then charged the battery pack to see how much energy I had used. After driving the Novak GTB2 8.5 system (with a 20 tooth pinion) for 15 minutes I had to put 3066 mah back into our MaxAmps 6500 pack to fully recharge it. This is the exact same test I performed with the Viper, but you can not compare the two and I'll tell you why. When I learned that after running the Viper system it only took roughly 2500 mah to recharge the battery I drove the Novak system harder attempting to use up more of the pack. While driving the Novak GTB2 system I drove as hard as I could for the full 15 minutes, but even then it only took slightly over 3000 mah to recharge our battery. This would indicate that runtimes of over a half hour (even when bashing like you stole it) should be possible on a 6500 mah battery with the Novak GTB2 system. That is a pretty impressive figure.
Drivability/Feel/Powerband– The throttle on our Novak GTB2/SS Pro 8.5 system was very smooth featuring a very flat powerband. Give it a little throttle input and you get a little power, give it half throttle and you get half power, tag the throttle pinned and you are hauling. Everywhere in between was buttery smooth. Taking off from a dead stop was also very smooth and linear. The concise control of the Novak at lower throttle values made tractably rolling on the power coming out of slick corners very easy, something that is nearly impossible to do on many other brushless systems. The only problem we experienced was when going into reverse. Sometimes you could give it a tiny bit of reverse and it would smoothly back away, other times you'd have to stab at reverse 3 times then it would jolt backwards. If you only use forward you'd never experience this, but if you are a basher getting into reverse smoothly can be a big deal.
Thermalling– We experienced no thermal issues with our GTB2. Speedo temps were quite reasonable, and while the motor ran fairly warm, it never got dangerously hot.
Cogging– Our Novak exhibited absolutely zero cogging during our testing, even when we put it in positions that would be considered torturous.
Brakes– The brakes on the GTB2 were firm yet controllable much like the Havoc Pro we just tested. They exhibited enough power to get slowed down in a hurry, yet weren't so heavy as to make our truck spin out, even on slick surfaces. Very good right out of the box.
Fit– The GTB2 easily fit into our HPI Blitz and its motor wires (and sensor wire) were plenty long. The GTB2 doesn't feature the smallest footprint out there, but it's not so big as to create any problems in a typical off road truck install.
As with all of our stuff, if you see us at a bash, stop by and check out the vehicles we have with us. We may let you take a test drive, and at the very least get you some stickers!
SUMMARY
Time To Bash – 9.0/10 -All the motor wires come soldered up, the power wires come with a Traxxas plug soldered on, and the Novak is a breeze to calibrate to your transmitter. You are looking at 15 minutes tops to hit the track. It doesn't get any faster than this for a speedo/motor combo.
Car Show Rating – 7.0/10 – A smart looking system that was well received around the office.
Bash-A-Bility – 10.0/10 -Nothing broke and we experienced zero issues. The Novak worked perfectly even under our abuse.
Fun Factor – 8/10 – Like shoveling up tons of roost? Like laying down long black tire marks on pavement? Like hucking big jumps? The Novak GTB2 system was a blast to drive.
Drivability – 8.0/10 – Forward control was very smooth but the excessive delay going into reverse kept it from scoring higher.
Power- 7.0/10 – The GTB2/SS Pro 8.5 combo had smooth, tractable power, enough to spin the tires relentlessly from a dead stop, and enough to make all the jumps at our local 8th scale track. There isn't an 8.5 system on the market in the same league for power as some of the 3-4S setups available, but the Novak is quick and controllable.
Value- 8.5/10 – You get a lot of bang for your $160 with this Novak system.
Big Squid Rating – 8.2/10 – Tentacles.. – The Novak GTB2/SS Pro 8.5 system provides plenty of smooth power at a very affordable price. The Novak is the easiest speedo/motor combo on the market to install. Add in a dose of being rock solid dependable, and a little sprinkle of being easy to calibrate/adjust, and Novak has put out another solid product that's well worth the cash.