Novak Havoc Pro SC now with 540 Ballistic motors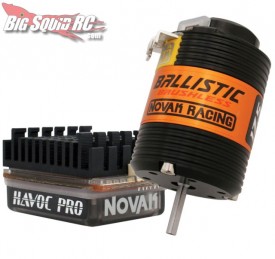 Novak's Havoc Pro SC is now available in a combo with the Ballistic 540 size brushless motors.  Previously it had only been available with the larger 550 size motor.  This new combo gives you a greater selection of windings, 8.5T/5000 kv, 13.5T/3300kv, and 17.5T/2200kv.  The 550 size 4.5T combo is also still available and ideally suited for the new 4wd short course trucks coming on the market.  Some of the features of the Havoc Pro SC include a silicone sealed water-resistant ESC case, 14 adjustable ESC parameters, 2S LiPo support with built in cut-off, and a 6V/3A BEC.
Check out the Team Novak web site for all the info.