Novak Havoc Sport Sensored Brushless System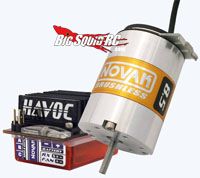 The good folks over at Team Novak have just sent off a press release talking about the new Havoc Sport Sensored Brushless System. The press release was huge, and I'll try and post the hole thing in the NEW Product Forum. Some important details, it should be a good fit for the Traxxas Slash, HPI E-Firestorm, Kyosho Lazer ZX-5, and just about any other 1/10th scale electric. They claim speeds over 40mph in the Slash, and I'm sure that will perk up a few readers out there.
It's setup to be very customizable and easy to use with Li-Po cutoff options, reverse disabling, and even a throttle curve.
Check out the NEW Product Forum or Team Novak site for more information!