Novak Timbuk2 Brushless System: Wraith Edition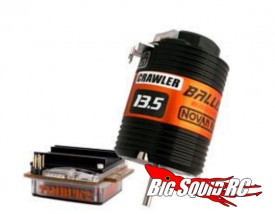 I've somehow become "Axial Wraith boy" around the office… So naturally, this PR is all mine. Novak now offers the Timbuk2 Brushless System: Wraith Edition! This system drops right into your Wraith and gives more speed and drivability. An external 5A BEC is also included! You won't have to modify a thing, as this combo was designed for the reverse-rotation drivetrain of the Wraith. The coolest thing is RockBoost, which adjusts the timing when the vehicle reaches full speed to give you both low speed and crawler torque, but better speeds at full throttle. I may have to spend some more hard earned cash on this!
Check out Novak for all the details!